Psychedelic Artists Wowing Japan are Taking the Show to New York
(Bloomberg) -- Do as the Japanese do. Take off your shoes and jump in feet first.
TeamLab, the tech-art collective that opened two spectacular light exhibits at Tokyo museums in the past two months, says it will reproduce one of its installations, titled "Planets," at Brooklyn's Industry City in August 2019.
"I wanted to pick the best city for more people to come see our digital museum, and that's when I thought: New York," said the exhibit's chief creative officer, Takumi Nomoto.
At teamLab's "Planets" attraction in Tokyo, which is sponsored by media conglomerate DMM.com, visitors navigate a maze of dark, empty rooms, stepping into or onto kaleidoscopic light installations that are triggered by motion sensors and projected across every surface of the space. Guests are required to remove their shoes before entering, just as they would at the door of any Japanese house or apartment.
The shoe-less theme will continue at the Brooklyn version of the exhibition, according to Nomoto, who says he's excited to see the reaction from overseas museum-goers. Walking the space barefoot will give visitors a fuller experience of the show, which offers different floor textures in addition to the lights.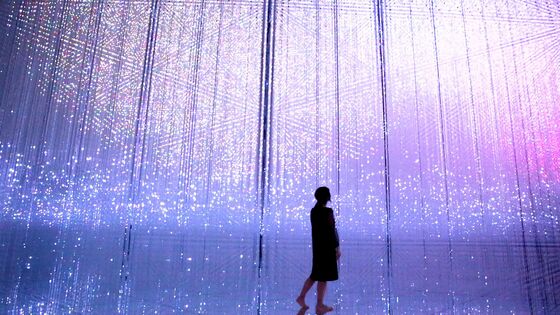 In one installation, called the "Koi Infinity Pond," or carp pond, visitors are invited to walk through a pool of knee-high water. Digitally projected fish swim on the surface, creating colorful lines across the space. The carp dissolve into flowers when touched.
Another exhibit called "Floating in the Falling Universe of Flowers" uses mirrored surfaces and more digital imagery to give the illusion of being suspended inside a vortex of falling flower petals -- a sort of psychedelic session of cherry-blossom viewing.
"When we built this," Nomoto said, "we imagined it would show guests that
time never stops, but just like stars, or flowers in this case, we humans don't
live forever and life is so precious."