Protesters' Clashes With Federal Police Scar Businesses
(Bloomberg) -- Business owners in downtown Portland, epicenter of clashes between federal agents and protesters, have delayed reopening their shops and even considered closing them permanently since the Trump administration's intervention worsened unrest in the city.
Mayor Ted Wheeler and Oregon Governor Kate Brown have called for withdrawal of the agents. Democratic members of Congress have introduced a bill to block the administration from "deploying federal forces as a shadowy paramilitary against Americans." And mayors in other cities, including Chicago and New York, have vowed to fight any similar deployment in court.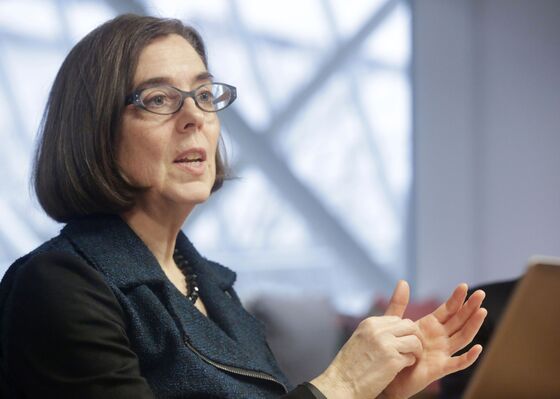 "The presence of federal troops has led to a near-universal upset and a worsening of conditions on the streets," said Andrew Hoan, chief executive of Portland Business Alliance, the area's chamber of commerce, which represents almost 1,900 businesses.
Trump's vow to send federal agents into other cities to quell unrest and combat crime has raised questions about whether the move violates the Constitution. It has reignited a national debate on the militarization of policing. And it has added a new, disturbing twist: the use of unmarked vans in detaining protesters.
In the latest challenge, Oregon's attorney general asked a judge to block U.S. agents from detaining Black Lives Matter demonstrators without probable cause, saying the actions violate free-speech rights and may increase the occurrence of kidnappings in Portland. The state wants agents to be required to identify themselves before detaining people and to explain to arrestees why they're being held.
Federal officials said in a briefing Tuesday that use of unmarked vehicles is a standard practice, because demonstrators target patrol cars. Officials said that all officers in Portland are wearing uniforms that say "police." There have been 43 federal arrests there so far, they said.
"We will not retreat," said Chad Wolf, acting secretary of Homeland Security.
Joe Biden, the Democratic presidential nominee, condemned the department's presence in Portland. "Homeland Security agents -- without a clearly defined mandate or authority -- are ranging far from federal property, stripped of badges and insignia and identifying markings, to detain people," he said in a statement.
The uncertainty created by the agents' clashes with protesters has bedeviled business owners still struggling to cope with the fallout from Covid-19.
At a Subway sandwich shop a short walk from the courthouse, co-owner Stacey Gibson said businesses are frustrated that the city has been unable to quell the unrest, which began shortly after the killing of George Floyd in the custody of Minneapolis police on May 25. Others are angry the federal agents have been deployed.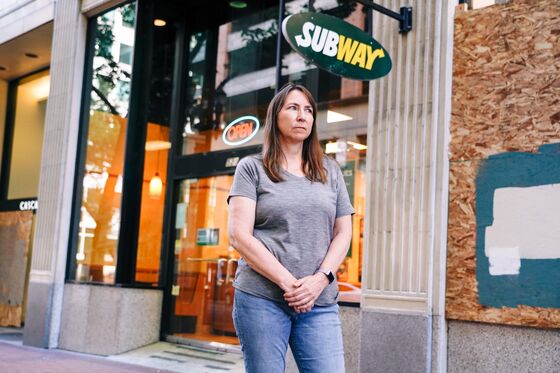 She's had to increase the number of employees at the store, so no one is ever working alone, for safety reasons. Sales are down 60%.
"A friend of mine is slowly closing the store around the corner," Gibson said. "We are going to be next."
Gibson said she may no longer be able to afford rents downtown, as many of her regulars -- office workers -- continue to work from home.
With many storefronts boarded up due to the clashes, customers are avoiding downtown, which looks like "a war zone," said Noha Kassab, owner of Kassab Jewelers.
"Our customers tell us that they do not want to go downtown because they are not safe and they are worried their car will be broken into," Kassab said, adding that her store was completely destroyed. "We can't decide if we want to fix it or if we want to leave downtown Portland."
Her other stores, in the suburbs of Tigard and Lake Oswego, are busy, she said.
"We are happy the feds stepped in," Kassab said. "We are happy that someone is doing something."
Like many other downtown business owners, Kassab also said she no longer expects help from Portland police. She said she watched the looting of her store in late May live on camera.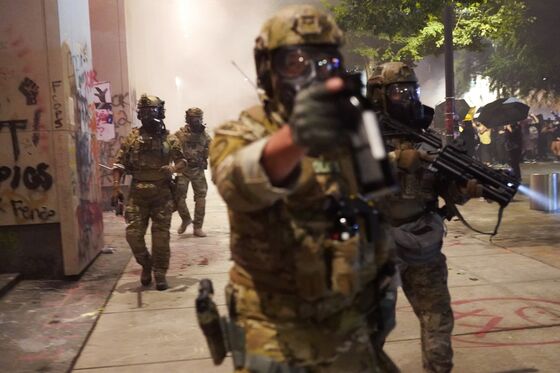 The unrest continues as the city tries to implement reforms spurred by Floyd's killing. In June, Portland's police department got a new chief -- and had its funding cut by the City Council. The local police union said earlier this month that it has no confidence that the council "respects and supports" its officers.
Some members of the state legislature are looking at creating a statewide investigative team to examine use-of-force incidents, demilitarizing police departments, bolstering officer training, and changing how statutes define riots to further limit use of tear gas during protests.
Protests against racism and police brutality over the past two months have mostly been peaceful, but a small contingent of rioters in Portland has been setting fire to buildings and dumpsters, marking walls with graffiti, looting businesses and breaking car windows.
Local officials said the violence had been calming down before the federal agents arrived.
"In come the federal idiots and they managed to put gasoline on the fire," said state Senator Lew Frederick, a Democrat who has been active in pushing for police reform. "They came in, they shot unarmed people with their hands in the air. They shot tear gas that was more dangerous than the tear gas that had been employed by the Portland police."
Frederick said the federal intervention was a distraction that only accelerated momentum for statewide reform.
"Trump wants to believe that this is going to bring down the tension," he said. "It's in fact reinforced and encouraged even more concern about what is being done in the area."