Profit Warning Is Canceled After Firm Finds Missing Millions
(Bloomberg) -- Last month, Finnish online retailer Verkkokauppa.com Oyj warned that its earnings would fall short of its guided range. Turns out, they just needed to find the money.
"The company has now detected a system error, which has been located and corrected," the Helsinki-based retailer said in a statement on Wednesday to explain it had recovered 2.4 million euros ($2.7 million). The shares shot up as much as 13 percent, erasing most of the losses suffered after the profit warning published Jan. 17. The initial release pointed to increased price competition and marketing activities as the source of the shortfall.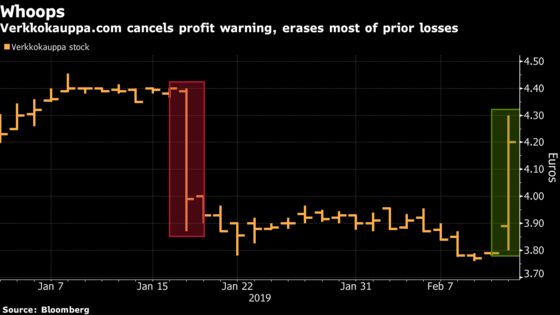 "We naturally regret the occurrence and are continuously developing our systems to prevent such errors," Chief Financial Officer Jussi Tallgren said in an emailed response.
Verkkokauppa's financial release due Friday is now set to show earnings for last year will be comfortably around the mid-point of the guided range of 11 million to 14 million euros.
It's not the first time the company has faced such issues. In 2017 it cut profit guidance due to an error in the estimates for accruals for marketing support and purchase discounts from suppliers.