Productivity Gap On Display as London Towers Over Rest of U.K.
The gulf between the best and worst-performing regions of the U.K. was laid bare in new figures published Wednesday.
Only London and southeast England beat the U.K. average output per hour in 2018, according to the Office for National Statistics. Wales was 17% below average, and Yorkshire and the Humber in northern England was not far behind.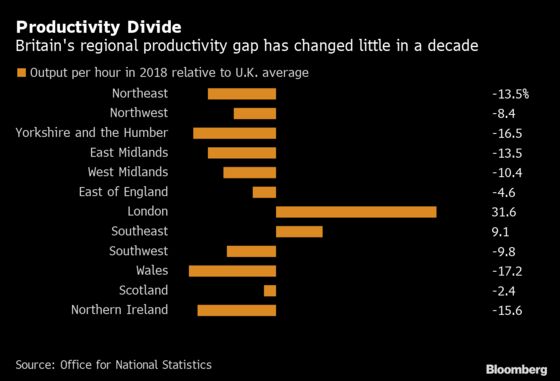 Prime Minister Boris Johnson says "leveling up" regional disparities is a top priority for his government, with the budget on March 11 expected to include billions of pounds of new infrastructure projects for northern England and the Midlands, where a decade of austerity and the decline of heavy industry have taken a heavy toll.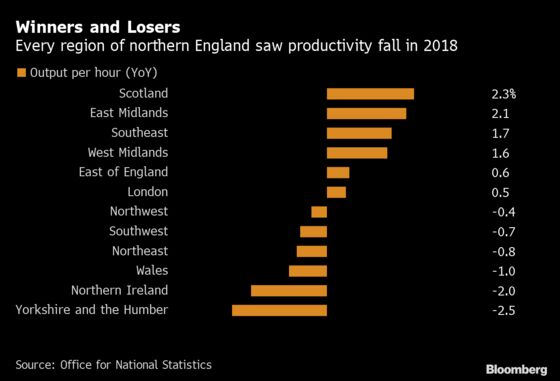 Johnson won the December general election on the back on voters in these traditional Labour strongholds supporting his Conservative Party for the first time. The gap between the most and least productive parts of the country has changed little over the last 10 years, depressing wages for millions of workers.
In 2018, half of U.K. regions saw output per hour increase, with Scotland posting the biggest gain. Productivity fell in every region of northern England along with the southwest, Wales and Northern Ireland.
The time has finally come for Britain's worst productivity slump since the industrial revolution to dominate the country's economic agenda, Bank of England policy maker Andy Haldane said Tuesday. He spoke as head of the government's Industrial Strategy Council, which said previous efforts to tackle the regional gulf were "hallmarked by a lack of continuity and consistency" that have actually worsened differences.
Read more:
Britain's Productivity Crisis Is Complicated Further by Brexit