Prison Riot Amid Coronavirus Fears Leaves Nine Dead in Peru
(Bloomberg) -- Nine inmates died during a riot at a Lima jail amid fears Peru's prisons are becoming a breeding ground for coronavirus.
The disturbance began at the Miguel Castro Castro jail in the east of the Peruvian capital on Monday with inmates burning mattresses and protesting violently. Some prisoners climbed onto the roof and threw stones and heavy objects at security forces attempting to entering the jail, the country's penitentiary authority INPE said in a statement on its website.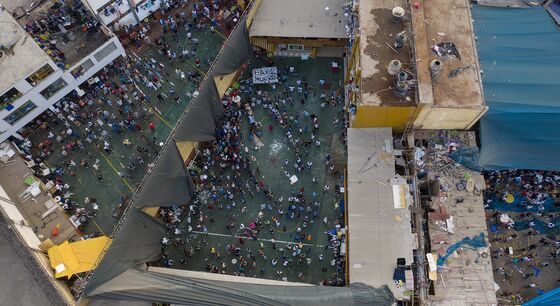 Prison guards brought the protest under control and prevented inmates from escaping with the help of about 200 members of the police and army, INPE said.
The coronavirus pandemic has killed thirteen inmates and three prison guards and infected 500 in Peru's jails, Justice Minister Fernando Castaneda said last week. There have been disturbances at three other Peruvian jails in recent days while in neighboring Colombia coordinated uprisings left 25 inmates dead last month.
Castro Castro has 5,300 inmates but was designed to hold 1,100, according to Jose Luis Perez, a former Interior Minister. "Obviously the possibility of infection is imminent," he told Lima-based RPP radio. Delays in retrieving the corpses of inmates who died from the virus has further increased the risk of contagion, he said.
INPE said it is distributing protective equipment and testing kits to prevent the virus from spreading inside jails.