Princeton Power Couple Brings Women's Soccer to Kansas City
(Bloomberg) -- After a vacation to France, some people return home with a longing for culinary delights and fine wine.
Angie and Chris Long, the husband-and-wife team behind Palmer Square Capital Management, returned to Kansas with a dream of buying a women's professional soccer team.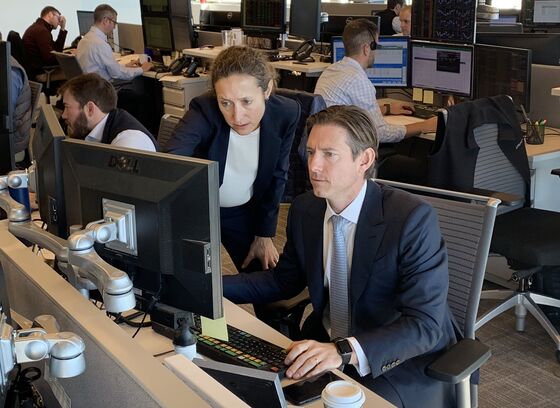 That wish was fulfilled Monday when the two announced that they purchased the National Women's Soccer League's Utah Royals and planned to relocate the team to Kansas City, Missouri.
The inspiration came from the couple's trip to France for the 2019 Women's World Cup and to watch their daughter play in her own soccer tournaments there.
"You could just feel the excitement," said Angie Long, Palmer Square's chief investment officer. "Growing up a female athlete and not having the opportunity to play for a professional women's soccer league, you could feel the power of women's sports and the power of soccer."
After graduating from Princeton University, the Longs both worked at JPMorgan Chase & Co., where Angie rose to the rank of managing director by the age of 29. Chris founded Palmer Square in 2009. The firm manages about $13.7 billion and specializes in overseeing collateralized loan obligations, bundles of debt backed by corporate loans.
Their investment in the Royals will benefit from a variety of developments, the Longs believe, including the extra attention the 2026 men's World Cup will bring to soccer in the U.S.
"The next decade has the possibility of taking what is already a preeminent resource in global soccer to the next level," said Chris Long, Palmer Square's president.
The opportunity to buy the Utah Royals franchise was unexpected and represents something of a homecoming. The team only hit the market after its previous owner, Dell Loy Hansen, came under scrutiny for a history of racist remarks.
It wasn't the first scandal the franchise has had to endure.
Hansen originally purchased the former FC Kansas City team and moved it to Salt Lake City after members of the club's founding ownership group were accused of sending sexually suggestive emails about players.
But now the Longs are bringing the team home. Other members of the ownership group include marketing executive Jen Gulvik, who'll serve as the team's president, and former professional soccer player Brittany Matthews. The team will operate temporarily as NWSL Kansas City until a permanent name is chosen.
Matthews, who played professional soccer in Iceland, is the fiancee of Kansas City's biggest sports star, Chiefs quarterback Patrick Mahomes. Mahomes recently acquired a stake in the city's Major League Baseball team, the Royals.
"Kansas City is the greatest soccer market in the country," Angie Long said. "This has been one of the most joyful days in my life because of all the thank-yous and expressions of gratitude from the K.C. community for bringing the team here."