Retirees Are Driving Up Prices of Waterfront Cottages in Canada
(Bloomberg) -- First Canadian baby boomers reaped the benefit from one of the biggest housing-price increases in the country's history. Now they're driving up the cost of a country retreat, leaving millennials struggling yet again to get a foothold on the property ladder.
Prices of ski chalets, waterfront cottages and other vacation properties in Canada jumped 13 percent to a median C$460,531 ($352,654) in the 12 months through June, according to brokerage RE/MAX Integra in a report on Thursday.
"Baby boomers who are entering their retirement, bought homes 30, 25-plus years ago, paid them off, and have gained tons of equity and are taking that equity out and buying second homes or are just selling their primary homes all together and buying a recreational property to retire at full time," Christopher Alexander, executive vice president at real estate firm Re/Max Integra, said in an interview.
British Columbia had the biggest jump in prices among the provinces at 19 percent, with the cost of a waterfront property in Tofino soaring as much as 112 percent to C$1.4 million ($1.07 million) and 21 percent in the ski resort of Whistler to C$790,000. In Ontario, prices jumped by 15 percent, with a waterfront spread in Wasaga Beach rising 18 percent to C$950,000.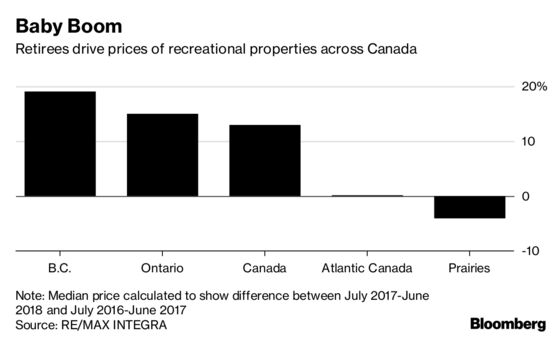 Prices on the Prairies by contrast fell 4 percent from the previous year amid an economic slowdown and the harsher impact of tighter mortgage-lending rules. Atlantic Canada prices remained flat.
Benchmark home prices jumped 46 percent to C$637,500 in the five years through May, propelled by an 81 percent gain in Vancouver to C$1,094,000 and rose 63 percent in Toronto to C$772,400.