Price War Holds Down Mortgage Costs Ahead of BOE Rate Decision
New mortgage rates for U.K. households fell in September to their lowest level in a year before commercial banks started raising borrowing costs on the threat of resurgent inflation.
Figures from the Bank of England Friday showed that the effective interest rate on newly drawn mortgages dropped to 1.78% from 1.82% in August.
The cost, which the BOE described as "the actual interest rate paid", was last lower in September 2020 -- six months after the central bank lowered its benchmark rate to 0.1% in the pandemic. The drop in the rate on new deals took the average paid on the entire stock of U.K. mortgages to a record low of 2.01%.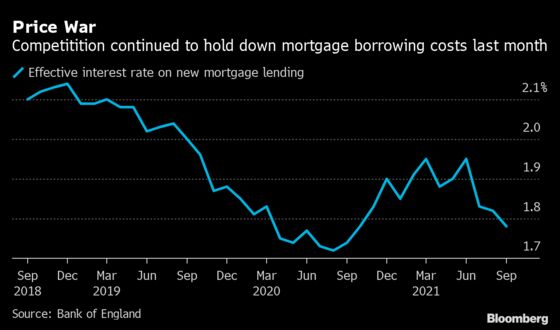 The figures indicate competitive pressures among banks in the mortgage market that have pushed borrowing costs to near their lowest on record even though interest rates in financial markets are starting to rise. If those trends hold, it may protect consumers from the full force of BOE rate increases that investors expect will come starting next week.
"It's likely that the jump in activity was powered in part by a late surge of buyers desperate to complete their purchases before the end of England's stamp duty holiday," said Karthik Srivats, co-founder of mortgage lender Ahauz. "That said, interest rates remain highly competitive and we expect approvals to remain well ahead of pre-pandemic levels for some time to come. With the supply of homes for sale not even close to keeping up with buyer demand, it's unlikely the market will cool significantly in the months ahead."
A number of high street lenders began raising their offers in October in anticipation of a rate rise from the BOE next month or shortly afterwards. 
Markets expect the BOE to lift interest rates to 0.25% on Nov. 4 and to continue raising them to 1% by the middle of next year. 
HSBC, Barclays and NatWest have all increased their mortgage rates. TSB has withdrawn its cheapest deals. 
Activity on the U.K. mortgage market was well above pre-pandemic levels again in September as buyers rushed to take advantage of tax relief before it was fully withdrawn in October.
Mortgage approvals for house purchases totaled 72,645 in September, above the 71,000 economists had forecast. Individuals borrowed 9.5 billion pounds ($13 billion) of mortgage debt, the highest since June 2021, when the relief was scaled back.
To stimulate the housing market, Chancellor of the Exchequer Rishi Sunak scrapped stamp duty on the first 500,000 pounds of a house purchase until June, lowering the relief to 250,000 pounds until the end of September.