Premier League's Neck-and-Neck Start Is Hurting U.K. Bookies
(Bloomberg) -- The contest at the top of England's Premier League couldn't be much tighter. That's exciting for soccer fans, but bad news for bookmakers.
England's "big six" clubs are on a roll -- well, apart from Manchester United, that is -- and after eight rounds of matches, just two points separate the five leading teams.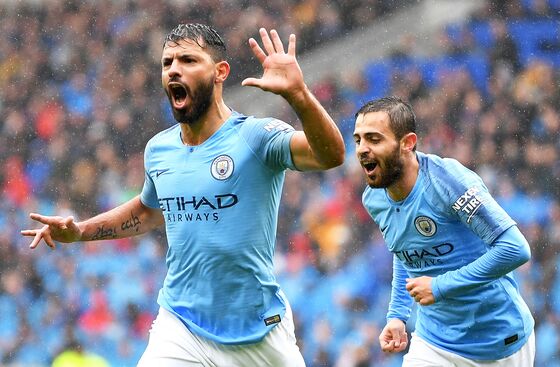 The league standings won't be a welcome sight for the likes of William Hill Plc, Paddy Power Betfair Plc and Ladbrokes-owner GVC Holdings Plc, as they show that the favorites most likely to be tipped by sports fans are tending to win their games.
"In September, football results conspired against the bookmakers," Barclays said in a note to clients on Tuesday. The "big six" won 80 percent of the games in which they were favorites during the first eight weeks, compared with 69 percent in the same period last season.
The run of results is in stark contrast to this summer's World Cup in Russia, which yielded bigger-than-expected payouts for bookies amid a string of shock defeats for highly backed sides.
There's also been an 8 percentage point decline in Premier League matches ending in draws compared with a year earlier, the bank said. Bookies tend to benefit from games that end all-square as most punters bet on a winner.
Fortunately for bookmakers, the Premier League fixture list is heating up, with 10 clashes between Manchester City, United, Chelsea, Arsenal, Liverpool or Tottenham Hotspur scheduled before the year ends.