Premier Lacrosse League Adds Ticketmaster Name in Rights Deal
(Bloomberg) -- The Premier Lacrosse League has signed a sponsorship deal with Ticketmaster that includes an uncommon wrinkle in pro team sports: The company's name will become part of the league's official title.
The league -- co-founded by Paul Rabil, perhaps the sport's best-known player -- will be known as the PLL Powered by Ticketmaster as it embarks on its second season.
Neither the PLL nor Ticketmaster, which is owned by concert behemoth Live Nation Entertainment Inc., would disclose the financial terms of the multiyear contract.
The title sponsorship is another example of the PLL, which uses a tour-based model instead of stationing teams in cities, taking its business practices from individual sports like pro golf, Nascar and action sports. The league, whose backers include Alibaba Group Holding Ltd. billionaire and Brooklyn Nets owner Joe Tsai and Raine Group, has a broadcast contract with Comcast Corp.'s NBC.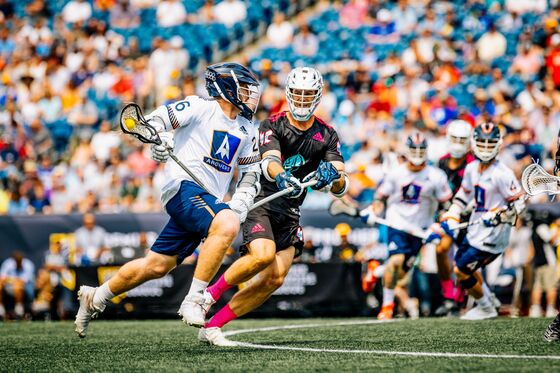 Rabil said Ticketmaster's myriad offerings and scale will help the PLL not only cater to existing fans, but find and develop new ones.
"Ticketmaster's audience reach, innovative technology and network of venue partners are unparalleled," he said. "We're going to generate tremendous value from their suite of services through targeted marketing, campaigns and customer analytics for both lacrosse fans and net new sports fans."
Ticketmaster will get more than just its name on the league's banner.
The brand will be attached to what the league calls its Premier Zone, a festival-like area at games that the PLL says attracts 90% of attendees. And the league's soon-to-be six podcast shows will now be called Ticketmaster Studios.
Moreover, Ticketmaster will have a weekly branded-content series, access to players, stadium advertisements, and a wide-ranging tie-up with NBC that gets the company in-game segments and commercials.
The seven-team league is scheduled to open its season May 29 in Boston.
In 2019, Live Nation promoted events that grossed $3.8 billion, more than double the next-largest competitor, according to the trade publication Pollstar. Live Nation's events generated 46.7 million ticket sales, more than triple the next-largest competitor, Pollstar said.
The NBA's development league, which was known as the D-League, struck a similar naming-rights deal with PepsiCo Inc.'s Gatorade a few years ago, turning the entity into the G-League. By contrast, in a retreat from such sponsorships, English soccer's Premier League in 2016 opted not to pursue a new name partner when its deal with Barclays Plc expired.