Prediction Markets See Republicans Losing House, Keeping Senate
(Bloomberg) -- Pollsters' reputations suffered after the surprising outcome of the 2016 presidential election. But bettors appear to be expressing confidence that the pollsters are correctly predicting the outcome of the 2018 midterm elections.
The bet viewed as the safest is that Democrats will secure a net gain of 23 seats to take the House majority for the first time since 2010. While still the most popular bet, a "yes" vote on Democrats winning control costs 65 cents, less than the high of 70 cents last week, indicating that confidence has waned. A 65-cent wager, if correct, would pay out $1.
House Republicans must keep at least 218 seats to maintain control. As the chart below shows, bettors don't think that will happen.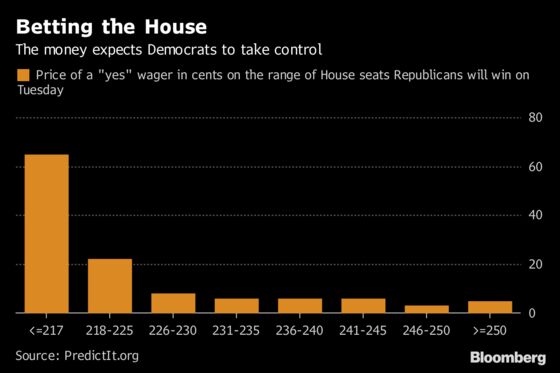 The blue wave isn't expected to carry over to the Senate. Wagers on Republicans losing their Senate majority stand at just 12 cents a share. That's a 3-cent uptick from the 30-day low of 9 cents set last week, but down from a high of 19 cents set at the beginning of October. That means bettors have slightly more confidence that Republicans will lose control. They must win at least 50 seats to maintain their majority: