Power Demand Jumps From Illinois to New Jersey Amid Bitter Cold
(Bloomberg) -- Demand on the largest U.S. electric grid surged to the highest in more than a year Tuesday as frigid weather pushed furnaces and radiators into overdrive.
Load on PJM Interconnection LLC's grid that stretches from New Jersey to Illinois hit 131,000 megawatts at 8 a.m. Eastern Time, the most since January 2018, according to Genscape data. Power prices jumped to as high as $1,372 a megawatt-hour.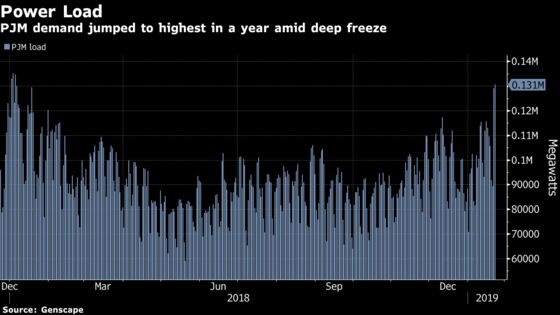 With cold weather forecast to ebb in the region, electricity demand and prices are declining. Power for delivery Wednesday near Philadelphia for the hour starting at 9 a.m. sank 42 percent, to $43.34 a megawatt-hour.
Temperatures in Philadelphia dipped to as low as 13 degrees Fahrenheit (minus 11 Celsius) at about 7 a.m. Tuesday morning. They are forecast to hit 45 degrees Wednesday, according to the National Weather Service.