Powell Tells Senators Fed Is Finding More Labor Market Slack
(Bloomberg) -- Federal Reserve Chair Jerome Powell said the U.S. labor market still has room to pull in workers. That space for improvement could be a factor bolstering the central bank's case for patience on future interest-rate increases.
"We have learned this year that there's more slack in the labor market, because people are coming back in" -- or staying in -- the workforce, Powell said Tuesday during a Senate Banking Committee hearing. Pointing toward a recent move higher in labor force participation, the share of people working or looking for jobs, he said "that tells us that there is more room to grow, and that certainly has implications for monetary policy."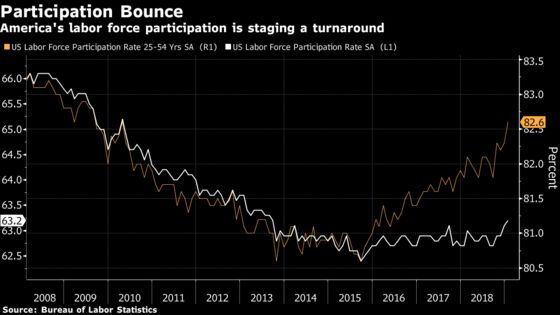 Powell noted that the unemployment rate would be lower if the labor force participation rate hadn't ticked higher. In projections published in December, Fed officials cut their estimates for economic growth in 2018 and 2019 and revised up estimates for where the unemployment rate would be in 2020 and 2021. The combination led them to project a slower pace of interest-rate increases going forward.
Last month, following a bout of financial-market volatility, officials began to downplay the additional tightening contained in their December projections, and Powell repeated Tuesday during the hearing that this current moment was a good time to show patience as they wait to see how headwinds to growth -- including risks emanating from abroad -- play out.
Officials have said that slow inflation despite low unemployment, and a limited pass-through from wage gains to price increases, are factors helping them maintain that cautious stance. They will publish updated projections following the conclusion of their March 20-21 meeting.
The Fed chief pointed out that while labor force participation is improving thanks to a strong economy, it remains depressed relative to other advanced economies.
"Our ability to address this is really just a function of trying to keep us at maximum employment," Powell said, suggesting that factors like benefit payments that discourage work, the opioid crisis, and education and skill gaps could all be factors holding participation rates back.
Powell also said the Fed is paying attention to urban-rural disparities as they try to gauge full employment -- half of the dual mandate given to the Fed by Congress. The central bank is supposed to maintain stable inflation and maximum sustainable employment.
"There's no one number that you look at, you have to look at a range of indicators, and that would be one of them," he said.