Powell Says Fed Trading Policy 'Not Adequate' for Public Trust
(Bloomberg) -- Federal Reserve Chair Jerome Powell said the stock-trading policies at the regional Fed banks are clearly "not adequate" to the test of sustaining the public's trust.
"It is now clearly seen as not adequate to the task of sustaining the public's trust," Powell told a virtual press conference Wednesday following a policy meeting of the U.S. central bank.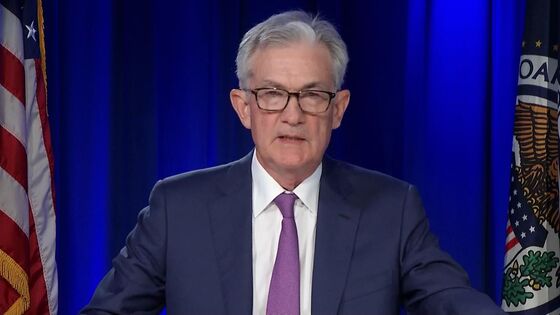 Powell said the central bank is conducting a thorough and comprehensive review to assess the policies and try to strengthen them. He said "it makes a lot sense" for policy makers to stay away from buying or selling securities that the Fed is purchasing. 
"We're going to make changes," he said. 
Recent revelations about trading activity last year by two regional Fed presidents prompted Powell to ask Fed staff to take a new look at internal ethics rules around financial holdings and activities by senior Fed officials. The intention of the move was to identify "ways to further tighten those rules and standards," a Fed spokeswoman said Sept. 16.
The trading activity by Boston Fed President Eric Rosengren and Dallas's Robert Kaplan were scrutinized for the potential conflict of interest at a time when the Fed is already under fire for emergency pandemic policies that critics say have elevated stock prices and benefited richer Americans.
Rosengren and Kaplan announced Sept. 9 that they would both sell their individual stock holdings by Sept. 30. Both said their transactions, which were detailed in annual financial disclosures submitted by all 12 regional Fed chiefs, complied with Fed rules.