Powell Says Fed to Announce Balance Sheet Rolloff Plan 'Soon'
(Bloomberg) -- Federal Reserve Chair Jerome Powell told lawmakers that he'll soon announce a plan to stop shrinking the $4 trillion balance sheet that the Fed built up as it battled to shield the economy from the 2008 financial crisis.
"We've worked out, I think, the framework of a plan that we hope to be able to announce soon, that will light the way all the way to the end of balance sheet normalization," which will come sometime later this year, Powell said Wednesday during testimony before the House Financial Services Committee. The next meeting of the policy-setting Federal Open Market Committee is March 19-20.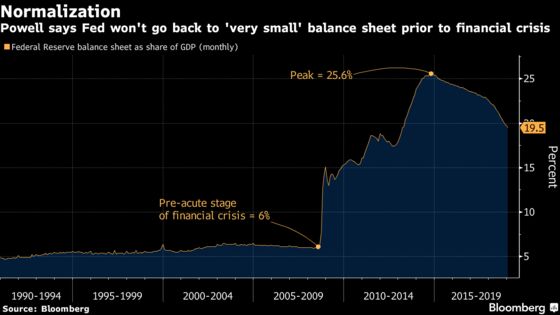 The Fed has been following a preset plan to shrink a portfolio of bonds it acquired as an emergency crisis-fighting measure. Those purchases provided banks with more reserves, while shrinking the balance sheet, which peaked at $4.5 trillion in 2015, is having the opposite effect. The Fed has now decided to call a halt before reserves become too scarce, which would force policy makers to intervene more in markets in order to keep their main interest rate within its target range.
Minutes from the Fed's January meeting showed near-unanimous support among FOMC members for halting the balance-sheet runoff this year. Officials agreed at the meeting to continue operating with an "ample supply" of reserves, without spelling out what that meant for the size of Fed holdings.
"There is a lot of uncertainty around the actual level," Powell said Wednesday.
Market participants have been revising up their estimates of what that level may be, according to results of the New York Fed's surveys of primary dealers and investment firms. Powell told Senate lawmakers Tuesday that estimates of about $1 trillion plus a buffer are "a reasonable starting point."
The Fed's bond portfolio amounted to about 6 percent of gross domestic product before the crisis. Powell said Wednesday that the balance sheet will likely settle around 16 or 17 percent of GDP. He said the Fed "can't go back to that very small balance sheet," because shrinking it means draining the reserves demanded by banks, which are required to hold high-quality and liquid assets. He added that the Fed has learned that it's "good to be very careful with the balance sheet."
The Fed has said that it wants a balance sheet primarily comprised of Treasuries. Powell said Wednesday that policy makers haven't decided whether to sell the central bank's agency mortgage-backed securities holdings at some stage.
Given other key decisions needing to be made, that choice is "closer to the back of the line," said Powell. "We have to decide about the maturity composition, and things like that."