Powell Reins In the Treasury Market's Angst with Dovish Message
(Bloomberg) -- Federal Reserve Chair Jerome Powell helped send Treasury yields lower on Wednesday by making clear that the central bank doesn't foresee a need to remove policy accommodation any time soon.
Ten-year Treasury yields fell to the day's lowest levels after the Fed's decision to keep policy unchanged, as forecast, with an extra dose of dovishness from Powell adding to the market move. In remarks to reporters, he said the recovery has been faster than expected but "it remains uneven and far from complete" and the economy "is a long way from our goals."
The 10-year yield initially rose to approach 1.66% on the release of the Fed's decision, then sank back as Powell spoke in a post-meeting press conference, to hover around 1.61%, down roughly 1 basis point. In his answers to reporters, he reaffirmed that officials aren't ready to start discussing plans to taper their massive bond-buying program.
Powell's emphasis that the Fed "was taking some time to achieve substantial progress on their policy goals" helped send yields lower, said Ben Emons, managing director of global macro strategy at Medley Global Advisors. "And then he was resolute on that it was not time to talk about talking about tapering" asset purchases.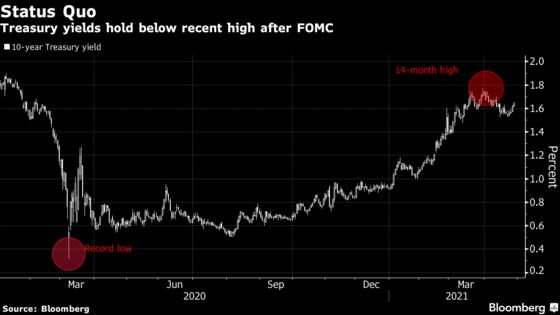 The Fed held its main policy rate near zero and vowed to keep buying bonds at the current $120 billion monthly pace.
The Fed meeting came amid a revival this week of bets on quicker inflation after a string of strong economic numbers and as President Joe Biden continues to lobby for an aggressive next round of fiscal stimulus.
The 10-year breakeven rate, a proxy for where investors see annual inflation rates over the next decade, reached nearly 2.43% Wednesday -- the highest since April 2013. The move came even as officials again stressed that the recent jump in actual inflation will prove transitory.
"We want inflation to run higher than it has been running over the last quarter century," Powell said. And for that we need inflation expectations "that are really well anchored at 2%, and we really don't see that yet."