Powell Fails to Convince Inflation Traders With 'Transient' View
(Bloomberg) -- The Federal Reserve is between a rock and hard place, at least as far as buoying inflation expectations, which officials have stressed are crucial to generating actual price increases.
While policy makers want bond-market gauges of the anticipated path of consumer prices to rise, they're sinking across the board in the wake of Fed Chairman Jerome Powell's post-meeting comments Wednesday. His view that tepid inflation readings were the result of transitory factors led rates traders to trim bets that the Fed would cut rates this year and stimulate inflation.
The difference between yields on 10-year Treasury Inflation-Protected Securities and regular Treasuries, a proxy of investors' inflation expectations for the next decade, has slid to 1.89 percentage points, from 1.95 Tuesday. The measure, known as the breakeven rate, rose to a 2019 high of 1.98 in April, from as low as 1.67 in January. Declines in commodity prices Thursday also fed into dimming inflation expectations.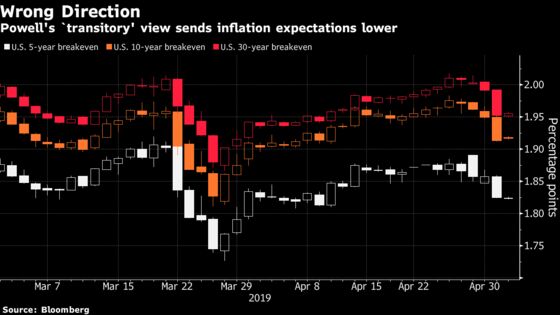 "Inflation month-to-month, quarter-to-quarter will always be moving around, there will always be factors hitting it," Powell told reporters in a press conference Wednesday after officials left their main rate unchanged. "So probably the biggest single factor driving it is the rate of underlying inflation, or closer related, the idea of where inflation expectations are anchored."
Breakeven rates got a boost from the Fed's dovish pivot earlier this year, combined with a chance that officials could adopt a policy of targeting an average inflation rate of 2 percent, meaning they'd allow it to overshoot and undershoot. The Fed's preferred underlying inflation gauge was 1.5 percent in March, below its 2 percent target.
Powell said that declining prices for some product and service categories tracked by inflation gauges -- such as investment advice services, clothing and footwear -- would prove transitory. But these categories account for less than half of the recent decline in inflation, and investors may be skeptical of his view.