Powell Emboldens Bond Traders to Wager Inflation Will Stay Tame
(Bloomberg) -- In the wake of the Federal Reserve's latest rate hike, bond traders are signaling they expect the U.S. economy to keep expanding without fueling a marked pickup in inflation.
A market-based gauge of the annual U.S. inflation rate for the next decade -- the 10-year breakeven rate -- has stabilized at around 2.15 percent, below a four-month high reached this week. In another debt-market indicator of dimmed inflation concern, the gap between 5- and 30-year yields is narrowing back toward the flattest levels in more than a decade.
Traders may be taking their cue from Fed Chairman Jerome Powell, who said in his press conference Wednesday that he saw little risk of "inflation surprises to the upside" and no indication thus far that rising tariffs were filtering into price levels. While Fed officials raised their projections for expansion next year, they also lowered their outlook for a measure of inflation in 2019.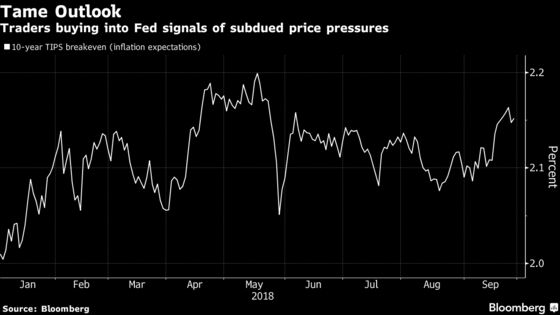 "This leaves us continuing to see positive growth with very tight labor markets but no broad-based inflationary pressure," said Jon Hill, a strategist at BMO Capital Markets. "It almost suggests there should be a negative inflation risk premium in the market. Investors don't seem to be particularly concerned about inflation," options markets show.
The breakeven metric -- derived from Treasury Inflation Protected Securities and their nominal counterparts -- reflects expectations for the consumer price index. It suggests investors don't see inflation exceeding Fed officials' 2 percent target on average over the next decade. That goal is expressed in terms of the deflator for personal consumption expenditures, which has historically trailed breakevens by about 40 basis points on average.
"Clearly, Chair Powell didn't seem worried about inflation," said Marty Mitchell, an independent strategist. "Officials' economic and rate projections showed the same. The reaction in the markets given all this will be for more yield-curve flattening and outperformance overall of the long-end."