Pound Traders Turn Cautious as Rally Stalls on Brexit Deal Risk
(Bloomberg) -- The pound's rally is stalling on the impasse over Brexit talks and options traders have started protecting themselves from the risk of the currency sliding.
Only a few days ago, traders were the most bullish on record over the pound's short-term prospects. The tide has turned, however, after the U.K. currency hit a five-month high on Wednesday and as a Brexit deal has yet to be announced.
Investors are now the most pessimistic they have been on sterling since early September as caution prevails. European Union and U.K. officials have been trying to reach an accord in Brussels and although there is a growing determination to finally put to an end to the divorce saga, opposition from Northern Ireland's Democratic Unionist Party is keeping sterling bulls wary.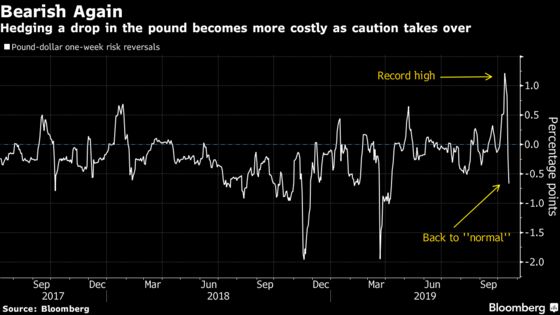 On Thursday, the DUP said in a Twitter post that it can't support the current proposals. Even if the DUP eventually goes along with Boris Johnson's plan, it is far from certain that it will get parliamentary approval. That means the U.K. Prime Minister may face the same drama as his predecessor: lacking the numbers needed to get the deal past U.K. lawmakers.
The pound traded 0.4% lower at $1.2782 as of 8:25 a.m. in London, while one-week risk reversals stood at 72 basis points in favor of pound puts. That compares to its opening level on Wednesday of 84 basis points in favor of calls.
The sharp turnaround in risk reversals, a barometer of market sentiment and positioning, may also be down to the pound's impressive recent rally. Sterling has gained as much as 5.5% versus the dollar since Oct. 10, rising by the most last week in more than two years.
Preference to own downside exposure in sterling may be therefore down to expectations that investors may take profit on their recent positions before reassessing their portfolio when the European Union summit concludes in Brussels.
Technical levels may also be in play. The pound has tested, and failed on a closing basis, to breach a key technical resistance at $1.2838. That level represents the 61.8% Fibonacci retracement of its losses since March and is seen by many analysts as a pivotal point when it comes to challenging long-term trends.
Given that short-term positioning recently became overstretched for those holding long positions -- hedge funds have been fading any dip in the pound, according to traders in Europe and London -- a correction in the spot market may also be due.