Why Pound Traders Should Stop Obsessing Over Brexit Day
Investors in the pound may be ignoring the here and now by being too fixated on the March 29 exit deadline from the European Union.
While they are rushing to buy options that help guard against wide swings in the currency around the departure date, they are scarcely prepared for volatility before the end of the first quarter. That means they are at risk of having to pay more for protection later or take a hit on profits, should any early political developments fuel outsized sterling fluctuations.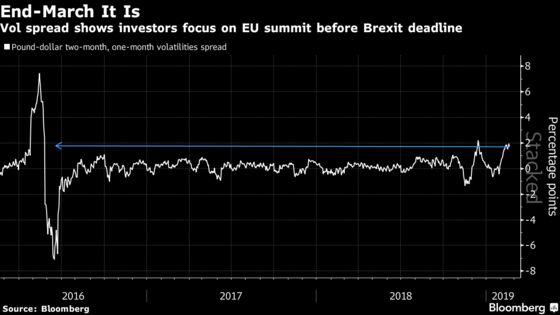 Implied volatility on two-month pound-dollar options, which also capture what could be a key EU summit on March 21-22, has seen the most activity across expiries and climbed Monday to a one-month high. Shorter tenors have languished as Brexit fatigue sapped demand, with the one-month measure firmly entrenched in a downtrend this year.
U.K. and European officials are working on new legal text for the contentious Irish border backstop as time is running out for Prime Minister Theresa May to get Parliament behind her divorce deal. May is scheduled to meet European Commission President Jean-Claude Juncker this week -- the meeting will be 'significant,' according to U.K. prime minister's spokesman James Slack.
Optimism that the meeting will yield Brexit progress fueled a pound rally of more than 1 percent on Tuesday, helping the currency rise above the $1.30 level. It was at $1.3026 Wednesday.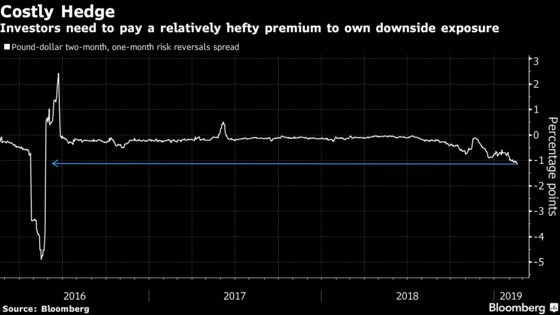 NOTE: Vassilis Karamanis is an FX and rates strategist who writes for Bloomberg. The observations he makes are his own and are not intended as investment advice