Pound Traders Look Complacent With Brexit Trade Battle Looming
(Bloomberg) -- When it comes to judging Brexit risks, pound traders appear lost at sea -- at least if bets on volatility are anything to go by.
That part of the market is sending contrasting signals: the cost of hedging against swings in sterling is above those for the dollar, euro and yen, yet barely indicates any increase in risk over the next 12 months. That's despite looming Brexit deadlines in the summer and year-end that could send shock waves through U.K. markets.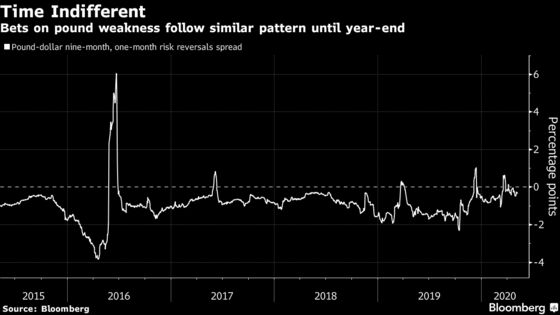 The flatness of volatility contracts from one month to nine months, known as the skew, suggests investors haven't fully assessed the threat of a messy divorce from the European Union. The market's failure to break down risks along a clear time line is flashing opportunities for some analysts, who think hedges against sharp movements could soon be in demand.
"There is a significant risk that the market is underpricing political uncertainty in the pound," said Jane Foley, Rabobank's head of currency strategy, who says buying volatility to cover the next three and nine months is worth considering. "There are only two more scheduled rounds of talks in the diary and this means that there has to be a risk of a return to World Trade Organization rules at the end of the year."
The U.K. government is refusing to budge on its end-of-2020 date for ending the Brexit transition period and only has until June 30 to change its mind, paving the way for an economically damaging exit without bespoke terms on its future relations with the EU. Brussels also appears to be hardening its stance.
That would normally cause spikes in expected volatility around the two flash points. Yet the spread between nine- and one-month contracts betting on a weaker pound is trading at only around 30 basis points. That is a surprise given it compares to around 200 basis points in February 2019, when investors positioned against the risk of a so-called hard Brexit in March that year.
"I have been having that conversation quite a bit this week," said Toronto-Dominion Bank strategist Ned Rumpeltin. "These risks are underpriced."
The currency has already had the worst start to the year since the early 1990s as the pandemic shuttered factories and kept consumers at home. The coronavirus and Brexit may be combining into "one big drag" on the pound, said Stephen Gallo, head of European currency strategy at the Bank of Montreal.
Rabobank's Foley sees scope for a 3% drop to $1.19 over three months. Options point to broad bearishness in the short- and longer-term on the pound. Nine-month risk reversals, a barometer of positioning, show market sentiment near its most negative since late March when coronavirus fears peaked.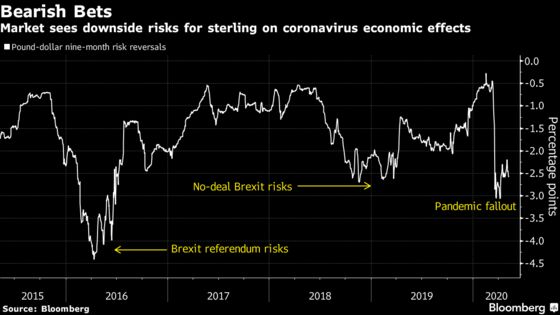 One explanation for this not filtering across the volatility skew is that Brexit risks are omnipresent. Talks could break down at any point in the coming months and the two sides could return to negotiations even after the summer deadline. Add Covid-19 to the mix and every day could be a bad day.
"Brexit is like an old friend from school that you don't like very much but can't get rid of," said Toronto-Dominion's Rumpeltin. "If you think that we are looking at a flareup of Brexit risks once again, but this time in the midst of a pandemic and global economic meltdown, then cable volatility looks relatively cheap."