Pound to Struggle as PMIs Seen Failing to Ward Off Rate-Cut Risk
(Bloomberg) -- The pound may slip further into next week's Bank of England rate meeting as analysts see stronger U.K. output data as not enough to ward off the prospect of an interest-rate cut.
Sterling initially climbed before falling back to trade around $1.31 after Friday's U.K. Purchasing Managers' Index data rose to the highest level since 2018 in January. That still left money markets pricing in a 60% chance of a rate cut next week, little changed from Thursday even as economists said it was enough to stave off further easing.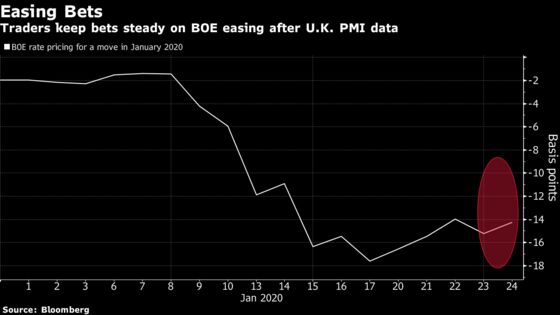 The reading had been touted as a potential game changer for the Jan. 30 rate decision, with some strategists saying beforehand that a reading around the 52 level or higher could entice policy makers to hold rates steady. IHS Markit's flash index for output across the whole economy increased to 52.4, with firms citing reduced political uncertainty after last month's election.
Here's what analysts think that means for markets ahead of the BOE decision next week:
Jordan Rochester, Nomura International Plc (Sees pound lower into BOE cut)
We had a jump in the PMIs, but not enough to materially warn off the Bank of England from cutting rates next week in our view. The pound has traded well this week as leading surveys indicated a recovery in the U.K. data and some had suggested a much higher PMI than we saw. But it needed to be 53 or higher to call off the chance of a rate cut completely.
We now expect sterling to trade lower into the BOE and over the rate cut itself. But after that it may mark the low in the pound as we firstly continue to expect the data in coming months to improve, and secondly therefore see the BOE cut as a "one and done" and not the start of a cycle.
Valentin Marinov, Credit Agricole SA (Pound in limbo)
A more muted reaction by the pound on the whole, suggesting that the data came closer to the whisper number
It is also worth highlighting that the PMIs are still far below the 'normal' levels that prevailed in 2018 and early 2019. Moreover, other activity data has been disappointing and the the MPC has signaled it may need to act preemptively.
All that may suggest that the markets may approach the January BOE with an open mind, leaving sterling in a sort of a limbo for now. Needless to say, a rate cut next week could weigh on the currency.
Michael Metcalfe, State Street Bank (Sterling near fair value)
We would be watchful of sterling strength extending.
Our own valuation metrics based on online prices suggest sterling is already close to fair-value against the U.S. dollar and is slightly overvalued versus the euro already. In other words the 5-15% discount sterling enjoyed since the referendum has already been eliminated and much of the good news of getting the first Brexit hurdle cleared is in the price already.
It might also be easier for Carney to engage a precautionary cut in his last meeting than it would be for new Governor establishing his credentials to begin his tenure with such a move.
Neil Jones, Mizuho Bank Ltd (Buy pound against euro, yen)
My sterling outlook has been impacted by this week's U.K. data, particularly today's. While it could be viewed as a "Boris Bounce" with future data returning to the downside, the U.K. economy may have legs the market had not factored into play.
I'm suggesting to clients the best way to play a long pound outlook is via the crosses. I'm recommending long pound sterling versus short euro, long pound versus short yen -- perhaps with a view to invest pound proceeds into domestic orientated stocks.
Stephen Gallo, Bank of Montreal (Fiscal policy key)
FX investors are having trouble logically connecting the relative strength of some of the recent U.K. data with the adamantly dovish remarks from some MPC members
The pound can rally even with a "hard Brexit" as long as economic and fiscal policy are supportive for the economy. I am still surprised how few are focusing on the change in government and likely forthcoming change in economic and fiscal policy
It's a waiting game now. It's unclear whether the MPC will think that enough easing has already been baked in by the January decline in GBP rates or that it will think this easing will need to be reinforced with a rate cut next week.