Pound Erases Rally as Details on Brexit Compromise Remain Scarce
(Bloomberg) -- The pound erased a rally against the dollar as markets looked for more clarity on U.K. Prime Minister Theresa May's planned Brexit offer aimed at resolving the contentious Irish border issue.
Sterling gave up a gain of as much as 0.7 percent as strategists said May had already hinted last month at a compromise and that she would put forward a plan on how to avoid a hard border with Ireland after the U.K. leaves the European Union. The U.K. would back down on opposition to some new goods checks and in exchange would expect the EU to allow the whole of Britain including Northern Ireland to stay in the bloc's customs regime, according to a senior British government official.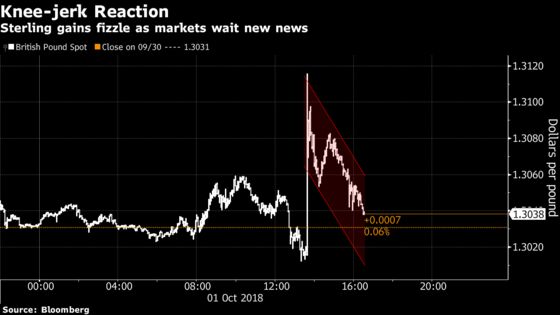 "We have to wait and see what the 'new' proposal is and how different it is from the offer already on the table," said Valentin Marinov, the head of Group-of-10 currency research at Credit Agricole CIB. "Needless to say, it also remains to be seen whether the EU would actually accept the new offer and/or whether the hard-Brexiteers take additional steps to destabilize May even further."
The pound little changed on the day at $1.3031 as of 4:45 p.m. in London, down from as high as $1.3116. Against the euro, it was 0.3 percent stronger at 88.76 pence, after retreating from the 88.58 level touched earlier. The yield on 10-year gilts climbed one basis point to 1.58 percent.