Pound Strengthens on Upbeat Wage Data, Cautious Brexit Optimism
(Bloomberg) -- The pound gained for a second day as upbeat U.K. employment data buoyed investor sentiment that was already underpinned by optimism the nation will avoid a no-deal Brexit.
Sterling rose above $1.29 as official data showed wage growth in Britain was the fastest since the financial crisis during the three months through November, while the unemployment rate declined to match the lowest level since 1975. The currency had advanced Monday as U.K. Prime Minister Theresa May told lawmakers she would involve them in the Brexit process.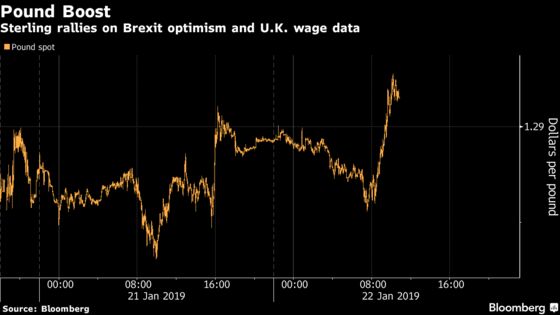 "All that has happened is that the risks of a super bearish Brexit outcome continue to fade, hence the pound has traded relatively well," said Russell Silberston, a portfolio manager at Investec Asset Management. "At the moment, all roads are leading to a delay in Brexit if you assume, as we do, that a hard Brexit is off the table."
The pound gained 0.2 percent to $1.2916, and strengthened 0.2 percent to 87.99 pence per euro. The yield on U.K. 10-year government bonds was little changed at 1.33 percent.
Further moves in sterling may hinge on the outcome of the Jan. 29 parliamentary vote on May's so-called Plan B for Brexit, according to Valentin Marinov, head of Group-of-10 currency strategy at Credit Agricole SA.
"We have to wait and see whether the amendments pass the house on Jan. 29," he said. "Evidence that the House can now dictate the course of Brexit, for example a second referendum, could play out as a positive development for the currency."