British Pound Shows Signs of Strength Before Brexit 
With 11 days to go before Britain leaves the European Union, the pound has the opportunity to begin a rebound from the post-election sell-off as support levels kick in.
The currency's second day of declines on Monday may be part of a corrective phase under the Elliott Wave technical pattern. The so-called C wave marks the final phase of the pullback from the rally that started in September, signaling that bearishness on the currency could have the potential to wind down.
Pound's Possible $1.28 Test May Not Alter Medium-Term Bullish Bias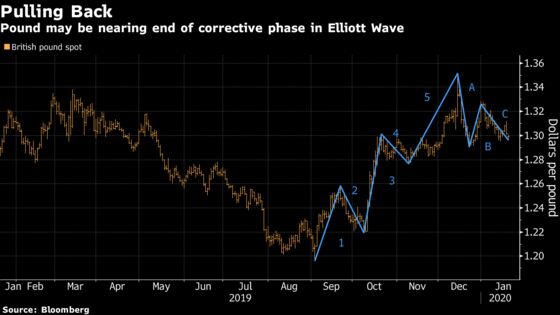 While the end of the C wave is yet to be established, signals from the Fibonacci study suggest the first support is at $1.2920, which marks the 38.2% retracement level. A more significant 61.8% retracement -- at $1.2553 -- suggests the bullish trend in the pound is intact, even after the volatility that followed the U.K. election result.
Read More:
BOE Easing Talk Helps Pound Defy Trend For Low Global Volatility
Market Exuberance on BOE Rate Cut Is Overdone for Morgan Stanley
To be sure, it may be that the C wave has further yet to run toward $1.2769, the low on Nov. 8. And other factors are also weighing on the pound beyond mere technicals. The currency surged after the Conservatives' victory in December then slipped on renewed fears of a hard Brexit, weak economic data and a flurry of dovish comments from Bank of England officials.
Nervousness in the run-up to the Jan. 31 Brexit deadline could bring volatility in the currency. Nonetheless, don't forget the technical factors which point to a pause in the sell-off. They also include stochastics showing oversold conditions and the average directional index suggesting a weakening grip from sterling bears.