Pound Set for Wild Brexit Ride: Strategists See Possible Range of 10%
(Bloomberg) -- Want the lowdown on European markets? In your inbox before the open, every day. Sign up here.
The pound may end the week anywhere in a range of 10 percent given the gulf between possible outcomes to Tuesday's Brexit vote, according to strategists.
Sterling may slide as much as 8 percent if U.K. lawmakers dismiss Prime Minister Theresa May's latest Brexit deal and then proceed to vote to leave the European Union without a deal, according to Commonwealth Bank of Australia. The currency may climb 2 percent, building on this year's 3.7 percent advance, if the U.K. avoids a hard Brexit, National Australia Bank Ltd. says.
The U.K. currency is continuing to swing in a wide range, said Joseph Capurso, senior currency strategist at Commonwealth Bank in Sydney. "We believe the pound would fall 4 percent to 8 percent if the Parliament agrees to a hard Brexit."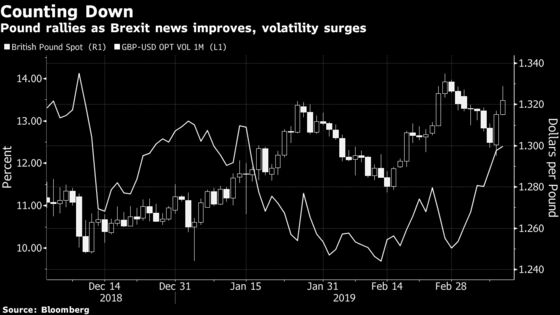 The pound rallied as much as 1.1 percent in early Asian trade Tuesday after May struck a deal with the European Union to revise the terms of the U.K.'s exit from the bloc following talks with European Commission President Jean-Claude Juncker in Strasbourg.
The gains have seen sterling become the best-performing Group-of-10 currency this year as the prospects of a resolution to the tortuous Brexit progress have improved as the March 29 deadline approaches. The pound rose 0.4 percent to trade at $1.3207 as of 7:20 a.m. in London.
"We remain optimistic that a hard Brexit will be avoided, and that in our view should put a floor on GBP," said Rodrigo Catril, a senior foreign-exchange strategist at National Australia Bank in Sydney.
U.K.'s House of Commons will vote Tuesday on May's revised deal. Should it fail, there will be a vote on Wednesday on whether the U.K. should leave the EU without a deal. A majority of lawmakers are against a hard Brexit, Capurso said.