Some Analysts Expect the Pound to Hit $1.30 Again
(Bloomberg) -- As U.K. Prime Minister Theresa May shakes off the threat of a leadership crisis, the pound is getting a chance to catch its breath.
With rebels in May's party seeming to have failed to garner the 48 letters needed to trigger a confidence vote in her, strategists see the currency making its way back up to $1.30 -- a level last seen in early November before the revolt. Sterling steadied on Wednesday above $1.28 after dropping 1.1 percent last week, when ministers quit over a draft Brexit plan.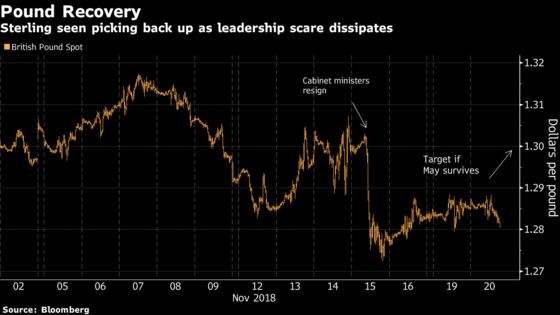 "A headline driven pound can take some relief from a lack of letters going in and resignations," said Stuart Bennett, head of Group-of-10 currency strategy at Banco Santander SA. "The Brexit wing's inability to get to the 48 cutoff point quickly does hint that they may be less powerful than feared."
Others agree. Mizuho Bank Ltd.'s head of hedge fund currency sales Neil Jones also sees the pound rallying to $1.30 if May comes out unscathed, while Goldman Sachs Group Inc. says that will give the pound some momentum heading into a December parliamentary debate on the Brexit deal.
The draft agreement first needs a formal stamp of approval at a European Union summit, slated for Nov. 25. May is heading to Brussels Wednesday for Brexit talks. A sign-off from European leaders would support the pound as an indication of another obstacle passed, said Bennett.
Markets will place more weight on the outcome of a vote on the deal in the House of Commons, expected in December, said Jane Foley, Rabobank's head of currency strategy. Strategists have said approval by lawmakers would take the currency toward $1.40, whereas failure to reach a Brexit deal this year could drive it down to $1.20.
"It may also see a little encouragement if the EU approve the deal, but we expect that the big rally will only come if the U.K. parliament endorse the deal," Foley said.