Pound Expected to Surge If May, Barnier Clinch Handshake
(Bloomberg) -- The pound may surge toward a five-month high if the U.K. and the European Union agree on a divorce deal this week.
The currency could gain more than 2 percent to $1.35 if British Prime Minister Theresa May and the EU's chief negotiator Michel Barnier shake hands on a deal at a crucial summit on Wednesday. Strategists, however, don't expect a return to pre-Brexit levels above $1.40 since the "fudge" nature of a likely agreement and the hurdle of getting it through Parliament will limit any rally.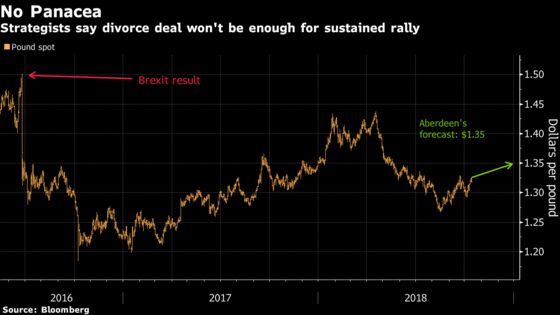 "We do seem to be nearing a junction in the road and a long road it has been," said Luke Hickmore, a senior investment manager at Aberdeen Standard Investment in Edinburgh. "I would love to say we see a $1.40 handle again, however there will still be a lot of talking to do, so it most likely tops out around $1.35."
The summit is seen as a key moment for the negotiations, with May set to have dinner with her European counterparts on Wednesday. Staff are said to be working in shifts in case it runs into the night, or the EU could decide the two sides are close enough to call another summit in mid-November.
Alternatively, as in the previous EU gathering in Salzburg last month, everything could blow up in their faces -- leaving leaders to consider what should happen before the next scheduled summit in December.
The pound has shaken off some of this year's losses in recent weeks on a combination of dollar weakness and some positive news around Brexit. If any deal is agreed, the market is likely to look ahead to the next hurdle of getting it through Parliament, which reports suggest could be challenging.
Any pound rally is conditional on a deal being struck early, and being "politically viable" for both the U.K and the EU, said ING Groep NV strategist Viraj Patel. He sees the currency drifting up toward $1.34-$1.35, with the potential for a further rally to $1.37-$1.38 if the dollar weakens and external geopolitical risk fades.
In the longer-term, a significant recovery in sterling will be dependent on a successful Brexit outcome and further dollar weakness, Patel added. This could send it to $1.45, he said.
"There's no reason why the pound can't punch above its weight next year if things go smoothly for Brexit and the dollar cycle finally continues on its downward trajectory. Two big -- but monumental -- ifs."