Pound's World-Beating Rally Leads Investors to Scale Back Bets
(Bloomberg) -- Want the lowdown on European markets? In your inbox before the open, every day. Sign up here.
The pound is beating all peers this year as the chances of the U.K. crashing out of the European Union next month fade, yet for some it's time to dial back bets on further gains.
Sterling's rally this week is enough to take money off the table for Chris Jeffery, an asset allocation strategist at Legal and General Investment Management, which oversees 985 billion pounds ($1.3 trillion). It is time to "trade the price, not the news," he said.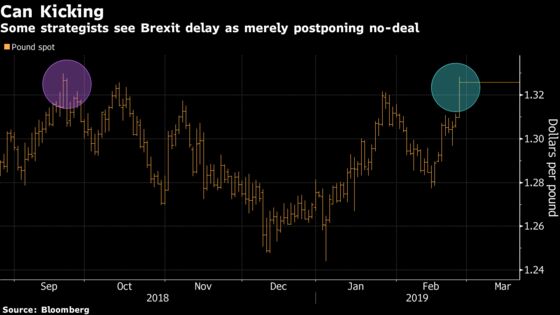 "We are still positioned for positive Brexit news, just less than was the case a couple of days ago," Jeffery said. "We think it's now time to take some profits."
Sterling has climbed around 4 percent in 2019 against the dollar and euro, getting its latest boost above $1.32 Tuesday when U.K. Prime Minister Theresa May offered lawmakers a vote on delaying Brexit if they can't reach an agreement in the next few weeks. Mizuho International Plc only sees limited further gains as the risks are pushed back.
May's two alternatives to her unpopular agreement with the EU, no deal or a three-month delay, are both shunned by certain segments of Parliament, said Peter Chatwell, head of European rates strategy at Mizuho. The Bank of England is not taking any chances on a deal, stepping up its defenses by offering lenders extra liquidity around the March 29 exit date.
"An Article 50 extension, if the House of Commons does get to vote it through, merely postpones the risk of no-deal," Chatwell said. The pound could rise to $1.33 but "should continue to trade well below any notional fair value due to the structural downside that Brexit causes to the U.K. economy."