Pound's Fortunes Revive Only to Be Dashed by Brexit Once Again
The pound is caught in a tug-of-war between a run of improving economic data and fears that the terms of its future relations with the European Union will damage the country's prospects next year.
Attempted rallies in the pound so far this year have stuttered on concerns the central bank will be forced to stimulate the economy. Just as those worries ebbed, fraught Brexit headlines pushed it right back down. The pattern may last, with a deadline at the end of 2020 to agree a trading relationship with the EU hanging over sentiment.
The currency was buoyed Wednesday by better-than-expected services data and improving global risk sentiment, only to fall back on news that European authorities are hatching an offensive to weaken the City of London.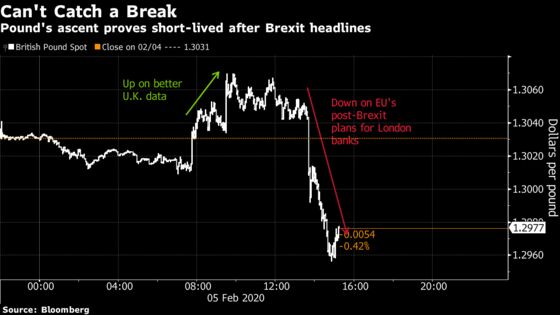 "It now looks clear that both the EU and U.K. are starting to take off their gloves," said Ned Rumpeltin, the European head of currency strategy at Toronto-Dominion Bank. "Our bottom line for sterling is that it is likely to remain mostly a barometer of these risks."
The pound hovered below $1.30 Wednesday, near the lowest level this year, compared to a consensus call for a climb to $1.35 by end-2020.
Nonetheless, some analyst remain bullish on sterling. HSBC Holdings Plc's forecast for it is at $1.45, in a turnaround given the bank has been bearish on the currency in recent years. It expects a "co-operative" solution between the U.K. and EU.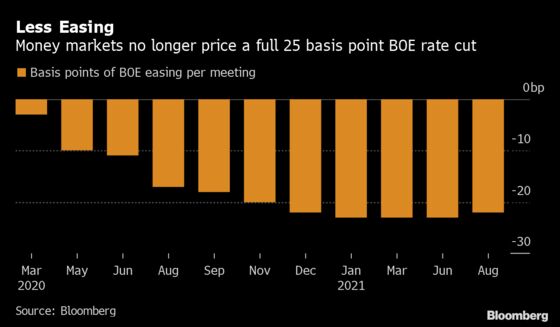 "It's ultra cheap and we don't see why it should be that cheap," said HSBC's global head of foreign-exchange strategy David Bloom on Bloomberg TV. "If you're looking for the big alternative to the dollar and you think things aren't great out there, we've found something that is cheap and the markets dislike it for all the wrong reasons."
The pound was down 0.3% at $1.2988 as of 3:45 p.m. London time. That's a fall of around 2% for 2020.
The currency is still less volatile than peers such as the Norwegian krone and Australian dollar, which have been driven more by the coronavirus outbreak. Bets on sterling swings are near the lowest since 2014, after being more on par with emerging markets in 2019.
If a lack of progress in Brexit talks does turn economic sentiment downward, at least one investor will stand to benefit, having bought 40,000 short-sterling options this week that will pay off if the central bank slashes interest rates 50 basis points by June.