Pound Rises Toward Two-Month High Even as Brexit Deal 'Far Away'
(Bloomberg) -- The pound extended its advance to a two-month high on upbeat U.K. retail-sales data and broad dollar weakness, even amid signs a Brexit compromise still remains far away.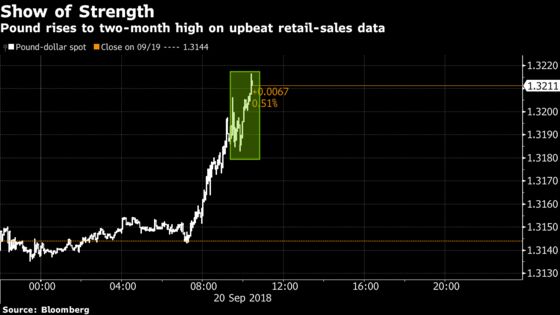 Sterling added to earlier gains as data showed U.K. retail sales unexpectedly climbed in August from the previous month. The currency rallied Thursday even though leaders from both sides in the Brexit talks appeared to have struck a harsher tone when they met face to face at a summit in Salzburg, with European Commission President Jean-Claude Juncker saying the U.K. is still "far away" from reaching a deal.
"The noise leading up to the summit has been pound-positive, with reports that the EU will give the U.K. a favorable deal and drop some demands regarding the Irish border issue," said Kathleen Brooks, research director at Gain Capital Group in London. "However, we remain on the lookout for a "sudden" shift in tone from the EU and a not-so-favorable outcome for the U.K. from this summit."
While the retail sales gave the currency an added boost, "it's a volatile time series and it remains about other factors to sustainably drive the currency," Credit Agricole strategist Manuel Oliveri said in emailed comments.
The pound gained 0.6 percent to $1.3217, the highest since July 17, while strengthening 0.3 percent against the euro to 88.59 pence. The yield on U.K. 10-year government bonds slipped one basis point to 1.60 percent, after climbing eight basis points over the previous three days.