Pound Rally Is Unwound as Brexit Progress Proves to Be Elusive
The pound is fast unwinding its biggest rally since March as optimism fades that talks between the U.K.'s government and the opposition will help break the Brexit impasse.
Sterling fell for a third day against the dollar, eroding more than half of last week's 2 percent jump, after the government acknowledged Tuesday that its efforts to find a way forward on Brexit won't be concluded in time to avoid taking part in the European Parliament elections this month. It extended declines on a report that the talks between the ruling Conservative Party and opposition Labour Party were close to being terminated.
The U.K. currency rallied last week on expectations that a poor performance from the two main parties in local elections could pressure them to seek a compromise on Brexit.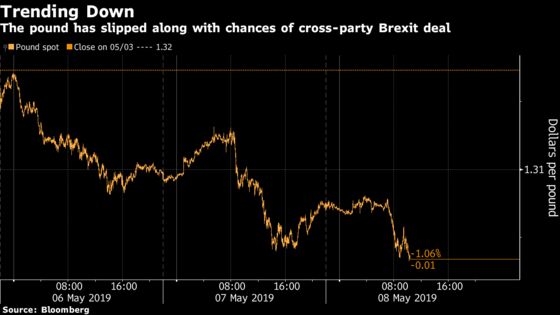 For the pound, "the bias should be lower ahead of European Union elections in just over two weeks," said Kenneth Broux, a strategist at Societe Generale SA. In the EU elections, "a possible landslide for the Brexit party could cause the rift to deepen in the Conservative party and it could bring new elections closer."
Investors had been pinning their hopes for a resolution on the Conservative-Labour discussions, with option-market bets on sterling strength turning positive for the first time in a year last week. Now the fragile optimism could be tested with the government set to turn its focus back to plan B, and the Prime Minister said to face calls to step down sooner than October.
Sterling fell 0.5 percent to $1.3010 as of 11:54 a.m. in London, taking losses over the past three days to 1.2 percent. The currency could slip toward the April low of $1.2866, according to Broux.