Pound Rallies on Report EU Will Offer U.K.-Wide Customs Plan
(Bloomberg) -- The pound rallied above $1.30 as Irish broadcaster RTE reported that the European Union may offer a U.K.-wide customs arrangement to break a Brexit deadlock over the Irish border.
Sterling gained as much as 0.6 percent on the news, which would help avoid a hard border between Northern Ireland and the Republic of Ireland after the U.K. leaves the bloc. Prime Minister Theresa May has faced opposition from her own party over keeping the U.K. in the customs union.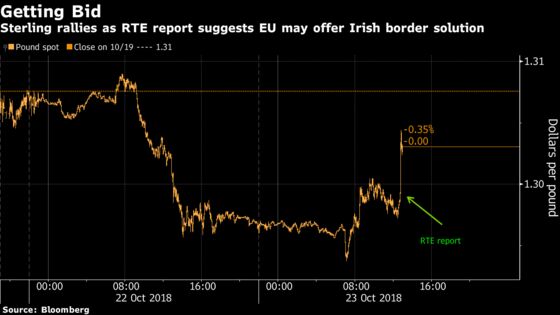 "The second backstop, for the U.K., could make a deal possible but could cost May her job," said Credit Agricole SA analyst Valentin Marinov. "On the day, abating fears about no-deal Brexit could help the pound. It remains to be seen, however, whether this will grow into a trend reversal higher."
The pound was up 0.5 percent to $1.3028 as of 1:02 p.m. in London. It rallied 0.4 percent to 88.10 pence per euro. The yield on U.K. 10-year government bonds slid two basis points to 1.51 percent.
RTE reported the arrangement would have to be negotiated beyond the Brexit withdrawal agreement, as a separate treaty.