Pound Traders Show Signs of Bracing for Rally on Brexit Delay
(Bloomberg) -- Pound traders were offered a glimpse of what might happen to the currency if Brexit is delayed beyond its March deadline.
Sterling climbed to the highest level since November against the dollar after the Evening Standard newspaper cited unidentified cabinet ministers as saying a delay to the March 29 Brexit deadline was looking increasingly likely. While the currency then pared gains following a denial from the government, it shows any sign that a no-deal exit is less likely could take out short positions.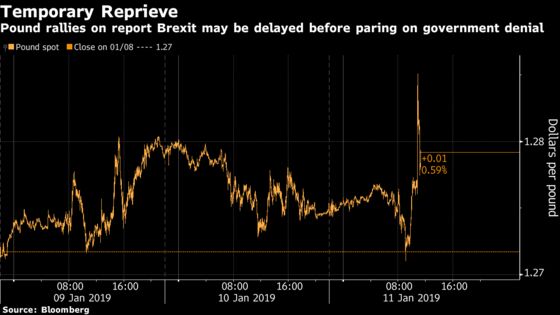 The size of the move means the market is poised to jump on good news, said Credit Agricole SA's head of Group-of-10 currency strategy Valentin Marinov. Sterling touched its weakest levels in over a year last week, reflecting pessimism among investors given May's Brexit deal is widely expected to be rejected by Parliament in a vote on Tuesday.
"There remains an overhang of pound shorts," said Marinov. "The squeeze in the event of more positive developments could be brutal and propel the pound back to levels last seen in the first half of 2018."
Net short positions on the pound -- which would benefit from a depreciation of the currency -- were at the highest level since September, according to data up to Dec. 18. Short positions on sterling have doubled over the past month, according to analysis by BNP Paribas SA.
The pound was up 0.5 percent at $1.2812 as of 1:34 p.m. in London, after rising to $1.2851, the highest since Nov. 26. The currency is heading for a fourth weekly gain, its best run in nearly a year, after a bruising 2018 saw it lose more than 5 percent against the dollar on fears of the U.K. crashing out of the European Union without a deal.
BNP Paribas is recommending investors go long on the pound versus the Swiss franc, adding that an extension of Britain's deadline to leave the EU is now looking like the most likely option. That could lead to a second referendum on Brexit, which would lift the pound to $1.36, it said.
Options traders seem to be positioning for the possibility that the U.K. will delay its exit. Investors are now more negative on the currency in nine months time, rather than on three-month contracts that capture the March 29 exit date, risk reversals show.