Pound Outlook Trashed in Short Term as Brexit Bewilderment Grows
(Bloomberg) -- The U.K. prime minister's delay of a crucial parliamentary vote on Brexit crumpled the pound on spot markets and destroyed a one-week outlook that options traders held as recently as Friday.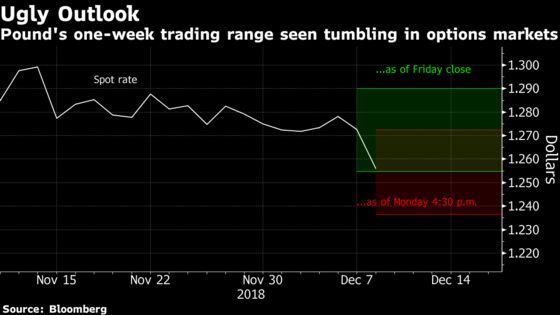 Options traders now see more than a 50 percent chance that sterling will drop to as low as $1.2370, according to probabilities derived from currency options compiled by Bloomberg. That's almost 1.5 percent below the spot price of $1.2555 at 4:50 p.m. in London. Sterling touched $1.2507 earlier, the lowest level since April 2017.
"People are scratching their heads as to what happens now," said Jane Foley, senior currency strategist at Rabobank in London. "Many pound bulls probably thought that her losing the vote Tuesday might clear the way to a second referendum" on Brexit. "That didn't happen."
In contrast, sterling's three-month outlook in options markets hardly shifted on the news.
"There's more uncertainty about what's going to happen over the next week," Foley said. "But over three months, there's either going to be Brexit or there's not."