Pound Optimism Ebbs as Brexit Gloom Overwhelms BOE Hike Prospect
Pound bulls just lost some of their swagger.
Long-standing optimists Credit Agricole SA, BBVA and ING Groep NV all cut their sterling calls in recent days with still no sign of a resolution to Brexit uncertainty. While the French and Spanish banks still see the U.K. currency strengthening from current levels, the Dutch one now forecasts it will fall to as low as $1.27 -- a level not seen in more than a year -- in the coming months.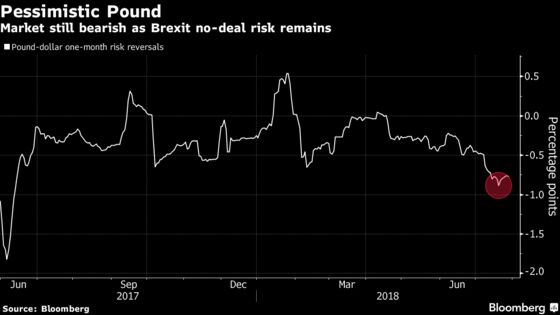 "Our bullish outlook at the start of the year was predicated on lower Brexit uncertainty and issues like the Irish backstop having been resolved," said ING analyst Viraj Patel. "The fact that we're still debating that and still questioning whether a transition may or may not go ahead is a huge disappointment."
The pound fell 0.7 percent against the dollar this month even as markets priced in an interest-rate increase this week by the Bank of England. With just 12 weeks to go until the U.K.'s and European Union's target date to have a Brexit deal in place, U.K. ministers speaking on condition of anonymity said they were terrified negotiations would fail.
ING now expects the pound in the $1.27-$1.28 area in the third quarter, compared with a previous forecast for $1.34-$1.35. Credit Agricole sees it at $1.37 in the fourth quarter, from $1.38 previously. BBVA cut its third- and fourth-quarter estimates to $1.32 and $1.38, from $1.37 and $1.44 respectively.
Positioning data shows it's not just the strategists who are struggling to be positive on sterling. Even amid elevated expectations for an imminent rate increase, leveraged funds and asset managers increased net short allocations on the U.K. currency, the latest figures show.
This can partly be put down to the fact investors aren't anticipating a rate hike this week to be followed by more monetary tightening in the coming months. Money-market prices show only 40 basis points of further increases priced over the next three years beyond the expected Aug. 2 move.
But for now, politics is outweighing the economics. Credit Agricole cut its pound forecasts on the view that the risk of a no-deal Brexit was growing and that an agreement between the U.K. and the EU will come "only after a period of heightened political uncertainty and growing fears about a no-deal Brexit," the bank's head of Group-of-10 currency research Valentin Marinov wrote in a note.
It would take either a positive surprise from U.K. economic data or a drop in domestic political risks to make ING go bullish on sterling again, Patel said. With both the U.K. Parliament and Brussels in recess, the uncertainty on Britain's future path is likely to continue into October, he said.