The Pound Now Moves on a Simple Thumbs Up
(Bloomberg) -- The responsiveness of the pound to headlines may be well documented, but its sensitivity reached new highs Tuesday as it rallied on a mere hand gesture.
Investors had been waiting for news on progress in the Brexit divorce talks with U.K. Prime Minister Theresa May gathering her Cabinet Tuesday morning. When BBC political editor Laura Kuenssberg tweeted that the Brexit Secretary Dominic Raab had said "thumbs up" on the way out of the meeting, it was enough to send the U.K. currency to the day's high.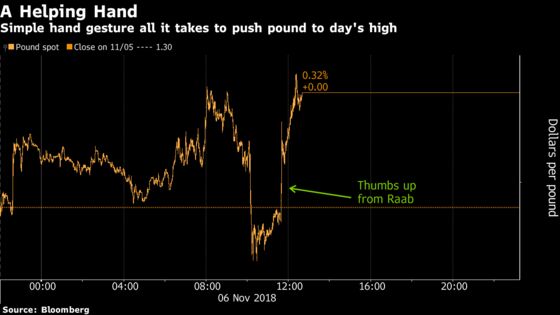 "Isn't it wonderful to be working in a market where a simple thumbs-up moves a currency by 40 pips?" said Jordan Rochester, an analyst at Nomura International Plc.
The pound, which was trading around $1.3035 before the tweet, spiked up to $1.3072 before reaching the day's high of $1.3090. Sterling also touched 87.20 pence per euro, the strongest level since June 15.
The currency held onto its gains even as reports suggested ministers disagreed over whether to offer concessions to the European Union to reach a deal. A U.K. official indicated the government was less hopeful of clinching a deal in time for a EU summit later this month, but wouldn't go into detail. It would be a stretch to get it done this month, the official said.