Pound Needs More Than Dated Data to Change Its Negative Bias
(Bloomberg) -- Economic data did little to properly dismiss a growing bearish sentiment for sterling Tuesday, leaving the pound looking more likely to revisit its November lows than sustain a move above $1.30.
A day-high of $1.2942 for the currency did not last long. It came after growth data showed the U.K. narrowly avoided an economic contraction in the fourth quarter, with gross domestic product unchanged from the previous three months, as forecast by economists in a Bloomberg survey. The shine was soon taken off the currency by the weakest consumer spending rise since the end of 2015, while industrial and manufacturing production numbers for December missed median estimates.
This mixed bag of backward-looking data keeps the chances of a Bank of England rate cut in the first half of the year intact. Brexit uncertainty for businesses and consumers also remains, with doubts surrounding the chances of the U.K. reaching a trade deal with the European Union before its transition deal ends on Dec. 31.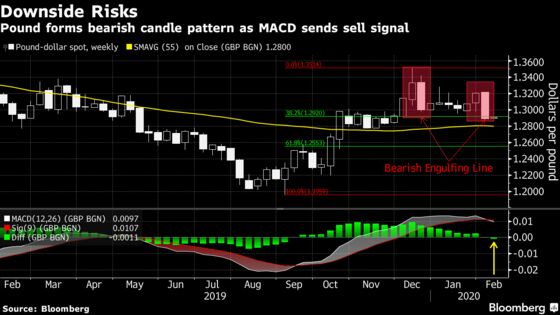 Money markets price in a 65% chance of a 25 basis points cut by August, down 5 percentage points compared to Friday pricing. For sterling bulls, it might not be enough that U.K, interest rates were kept on hold last month, after data reflected a pickup following Boris Johnson's election win in December. With global markets fixated on the threats posed to growth by the coronavirus outbreak, the bar is higher for a sustainable boost to sterling.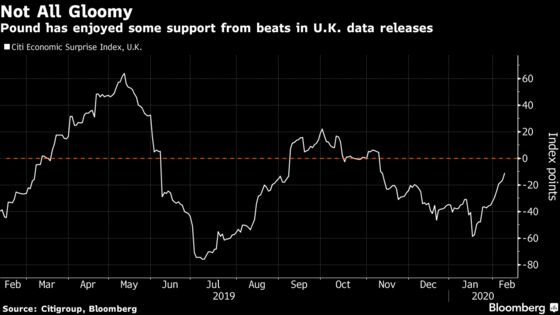 Technically, there is room for the pound to test its 55-weekly moving average at $1.2801 after closing on Thursday below the support from a three-month bullish trend-channel. This comes as options traders have turned bearish on sterling in the short-term as well.
Risk reversals, a barometer of market sentiment and positioning, have also moved. Until a week ago, they showed investors preferring near-term bets for a stronger pound, while expecting weakness over the longer-term. Now, bearish sentiment prevails in both the near and long terms.
After the dust settled from the BOE's decision last month, demand for options that paid out from a drop in the price of sterling, continues to outstrip the demand for structures looking for the opposite move by a ratio of 1.5:1, according to data from the Depository Trust & Clearing Corporation.
For the pound to neutralize its bearish bias in the short-term, a close above $1.3065, the 55-daily moving average, is the first key move.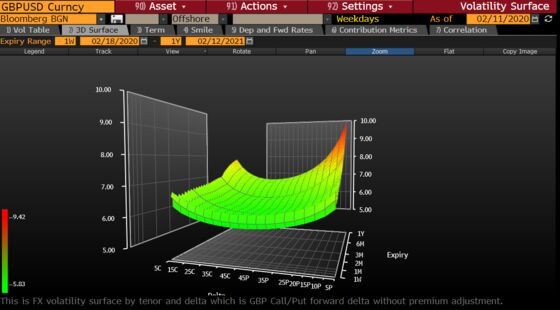 Read More:
Pound Troubles Look Far From Over Despite Monday's Reversal
NOTE: Vassilis Karamanis is an FX and rates strategist who writes for Bloomberg. The observations he makes are his own and are not intended as investment advice