Pound Loses BOE Crutch as Brexit Erodes Faith in Hawkish Outlook
(Bloomberg) -- The pound may have lost its last remaining toehold.
Sterling, which has repeatedly clawed back in recent months from Brexit-inflicted losses on the prospect of tighter monetary policy, just couldn't do it anymore this week. It was one of the worst-performing major currencies Thursday even after a surprisingly unanimous decision by Bank of England policy makers to raise interest rates to the highest level since 2009.
Option markets are mirroring a decidedly downcast outlook on the pound, with a gauge of one-year sentiment at the most bearish level since March 2017. That suggests Governor Mark Carney's assurance that the BOE is prepared for all Brexit scenarios did little to instill confidence. Sterling fell to as low as $1.2976 Friday after Carney said in a BBC Radio 4 interview that the odds of Britain leaving the European Union without a deal were "uncomfortably high."
The BOE's inflation, growth and policy projections seem to hinge on a Brexit outcome that's relatively less harsh on the economy and, going by the pound's slide, that assumption may have become "less credible" for the market, according to Valentin Marinov, head of Group-of-10 currency strategy at Credit Agricole SA.
"Brexit is a watershed moment for the economy and the BOE policy outlook," London-based Marinov said. "So whatever views Carney and his colleagues wanted to share with us today about the future has been heavily discounted. Sterling trades off market sentiment these days and that sentiment seems resolutely bearish."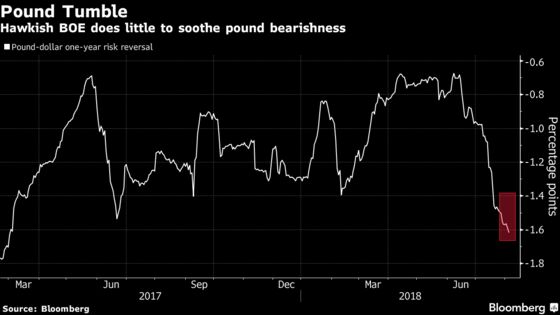 One-year pound-dollar risk reversals reached 165 basis points in favor of sterling puts this week, the most bearish in 17 months. While the British currency is still forecast to end this year higher at $1.34 in a Bloomberg survey, this estimate is much lower than the $1.43 predicted as recently as April.
The pound has weakened almost 4 percent against the dollar this year. It could fall further toward $1.10, according to Bank of America Merrill Lynch's Kamal Sharma, if Britain fails to avoid a disorderly exit from the European Union.
"Everything rests on what the withdrawal agreement between the EU and the U.K. looks like," said Sharma, director of Group-of-10 currency strategy at the bank. "We do think that the lack of a transition, the potential for a cliff-edge hard Brexit is quite significantly bearish for sterling."