Pound Left Cornered as Brexit Bugbears Multiply Beyond No-Deal
(Bloomberg) -- Suddenly, a no-deal Brexit is just one of the many unknowns pound traders need to contend with.
Now the risk of a second referendum or even another U.K. election needs to be taken on board by investors. The biggest worry is still that Britain will crash out of the European Union without an economic agreement, with talks deadlocked and time running out. Analysts surveyed by Bloomberg see sterling sliding almost 8 percent to $1.20 on such an outcome.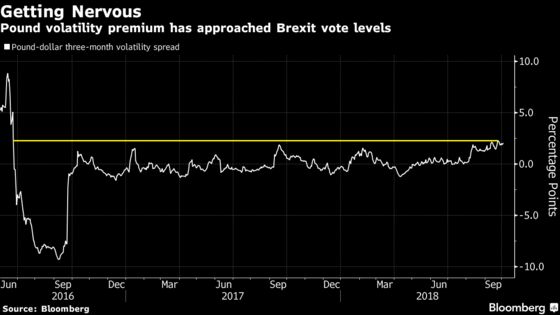 At its recent annual conference, the opposition Labour Party said it plans to vote down Prime Minister Theresa May's exit agreement with the EU and push for a fresh national ballot, while seeing a second plebiscite on Brexit as a way of avoiding a chaotic separation from the bloc. Analysts in the Bloomberg survey see a 23 percent probability of a no-deal Brexit, slightly up from 20 percent in a similar poll held in July.
"The Labour party conference has been interesting since they may consider backing a second referendum," said Jane Foley, head of currency strategy at Rabobank. "This adds more Brexit permutations for the pound but it does increase the chances of" a no-deal situation leading to a second referendum.
The increasing uncertainty is prompting some investors to opt to stay on the sidelines of the market or to trade through options, with volatility becoming more expensive as the Brexit deadline grows closer.
"Many clients don't want to be involved," Rabobank's Foley said. "Those that have to, I would advise to be nimble."
Even with multiplying Brexit ambiguities, the pound has gained over the past month. While this was partly due to dollar weakness, some investors see it as a sign that the market is still not fully awake to the risks. Sterling was around $1.30 Wednesday.
"Over the summer, markets were strangely complacent on Brexit tail risks, both of the chance of no deal or the chance of a soft Brexit," said Michael Riddell, a U.K. portfolio manager at Allianz Global Investors, who is opting for out-of-the-money call options to profit from a large, little-expected rally in the pound. "The market still appears a little complacent. The options market is pricing in more risk, but still not enough."
Three-month sterling-dollar implied volatility climbed to 236 basis points over the realized measure last week, the widest premium since the Brexit vote in June 2016 but still well below the extreme levels seen then.
This suggests "a sizable depreciation of sterling in case of a no-deal Brexit that is roughly 10 percent as an initial reaction," according to Thu Lan Nguyen, a strategist at Commerzbank AG.
At the annual conference of the U.K.'s ruling Conservative Party, former Foreign Secretary Boris Johnson won cheers with an attack on May's Brexit plan, but stopped short of calling for her to be removed as prime minister. The prime minister is preparing to make a significant new offer to the EU -- including compromises on the contentious Irish border issue -- in an attempt to open the door to a deal, according to a senior British government official.
"If Theresa May does back down then there's a high risk of a revolt in her party," said Riddell. "It looks increasingly likely that the opposition will push for another referendum. In short, it's a mess."
How likely is a no-deal outcome?
In July, participants in the Bloomberg survey saw a 20 percent probability of a no-deal Brexit. This has edged up to 23 percent since then
"Obviously, the risk of no deal has gone up but for me, that's standard for the course of EU negotiations," said Kenneth Broux, a strategist at Societe Generale SA. "I still expect a deal"
"The probability of no deal will naturally increase as time elapses and no deal has been reached," said Adam Cole, chief currency strategist at RBC. "I am including in that the probability of a deal being reached with the EU, but rejected by the U.K. parliament."
Where would the pound go?
Should Britain tumble out of EU without a deal, the pound "plummets to historic lows close to $1.10," according to Mizuho Bank's head of hedge fund sales Neil Jones
RBC's Cole sees the currency sliding "10% immediately and 15% in the longer run"
"If no deal meant that there was a second referendum and if the polls pointed to a remain vote, the pound would rally," according to Rabobank's Foley