Pound Hedging Costs Surge to 22-Month High as Brexit Looms Large
(Bloomberg) -- Hedging against swings in the pound hasn't been this expensive in almost two years as traders seek to make sense of contrasting headlines about the fate of the U.K.'s divorce talks with the European Union.
Sterling's one-month implied volatility versus the dollar increased a fourth day and touched 11.58 percent, the highest since January 2017, after U.K. Prime Minister Theresa May said late Monday that Brexit negotiators were working through the night as talks enter the "endgame."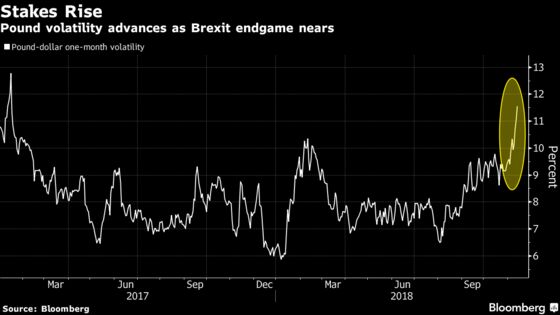 Nineteen months after Britain triggered its exit from the EU, negotiators believe they have until Wednesday to secure a deal if it's to be signed off by a special summit this month. Officials are trying to nail down what May called "significant" remaining issues, and there are signs that any agreement will struggle to survive the scrutiny of U.K. lawmakers.
Wide swings in the cash market left demand for pound gamma strong across tenors and especially on the one- to three-month horizon; one-month rises as much as 46bps; see term structure here
Inversion seen as one-week meets steady bid; the gauge rises by 85bps to touch 12.18 vols, a nine-month high; one-day vol hits 18.51%, highest since May 9 on a 24-hour basis
As vols rise, risk reversals rally for puts as hedging a no-deal scenario calls for downside exposure; one-month 25d trade at 95bps in favor of GBP puts, compared to past-year average of 53bps
NOTE: Vassilis Karamanis is an FX and rates strategist who writes for Bloomberg. The observations he makes are his own and are not intended as investment advice