Pound Resilience on Dire Data Reflects Equally Grim Global Tidings
(Bloomberg) -- The pound's surprising resilience in the face of cratering U.K. economic data is probably not something to be cheerful about.
Sterling rallied against both the euro and dollar Thursday even as a report showed Britain's economy contracted at the fastest pace in at least two decades. The currency advanced despite leading labor-market economists warning of a 'horrendous' jobs outlook in the country as the economic fallout from the coronavirus pandemic intensifies.
The pound's current strength isn't because the bad news was already priced in, or for the reason that the U.K. numbers were still better than elsewhere. It is more about how the economic situation is almost equally grim across the globe, and because markets are more fixated on swings in sentiment and risk appetite, according to Toronto-Dominion Bank's Ned Rumpeltin.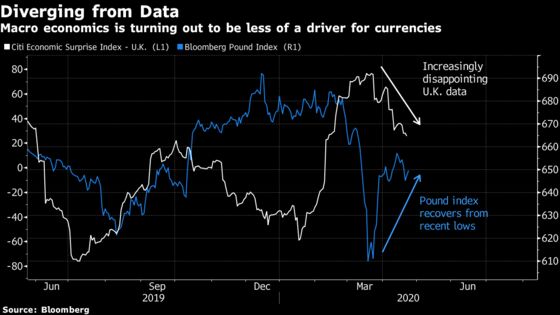 "All the ships are going down together, so it is very difficult to differentiate at this stage and pick out who might be the relative winners and losers on the macro front," said London-based Rumpeltin, the European head of currency strategy at Toronto-Dominion. "Right now, there are no winners."
The pound gained as much as 0.7% to reach $1.2415, while it appreciated 0.4% against the euro to 87.39 pence.
Currency-market focus may also have veered away from the sudden stop of the global economy given the massive stimulus measures set in place.
European Central Bank President Christine Lagarde told European Union leaders in a video conference Thursday that the euro area's gross domestic product could fall by as much as 15% and that they risk doing too little, too late.
The European Commission, has floated a 2 trillion-euro ($2.2 trillion) plan for economic recovery. Meanwhile, the U.S. is set to give final passage to a $484 billion interim support plan.
"That does not mean we think the bad news is priced -- not by a long shot -- but we may need more time before we can see where capital may begin to flow," Rumpeltin said.