Pound Falls as Traders Face Ticking Clock to October EU Summit
(Bloomberg) -- The pound started the week on the back foot as investors judged progress on Brexit could still prove elusive.
Sterling unwound almost all of last week's gains versus the dollar on Monday as a spokesman for the U.K. Prime Minister sounded a note of caution ahead of crucial talks. The U.K. should submit a proposal on the contentious Irish border issue by Wednesday to allow European Union envoys to begin preparations ahead of a summit later this month, but strategists are warning financial markets may be disappointed on the progress made.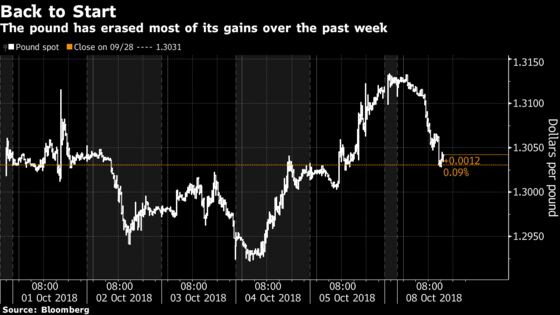 "My sense is that the latest headlines are a little harder," said Neil Jones, head of hedge fund sales at Mizuho Bank Ltd. "It does not bode well for the week ahead. The pound will likely see a further sell-off."
Sterling slipped 0.6 percent to $1.3036 as of 12:56 p.m. London time after earlier touching $1.3028. The move erased most of the gains seen last week after May successfully navigated her Conservative Party's annual conference, boosting optimism in her ability to clinch a deal. The U.K. currency slipped 0.3 percent to 88.04 pence per euro following a 1.4 percent advance last week.
On Monday, May's spokesman James Slack said the EU needed to move on the issue of the post-Brexit Irish border, the main issue keeping talks stalled. Even if a solution with Europe is reached in time, May's dependence on Northern Ireland's Democratic Unionist Party for her majority in Parliament could still put a spanner in the works, according to Commerzbank AG strategist Thu Lan Nguyen.
"The pound's recovery potential will remain limited until we clearly get one of the parties to back down on its 'red lines'," she said. "Therefore, I would expect the downtrend in euro-sterling to now slowly fade out, or at least, it will be driven further by euro weakness, not by pound strength."
The yield on benchmark U.K. 10-year government bonds fell four basis points to 1.68 percent on Monday, paring its increase last week when rates were driven higher by a broad sell-off across global debt markets. Gilt investors will be watching the results of a syndication due early in the week, as well as data on Britain's August trade balance and industrial production output due Wednesday.