Pound Losses on Stalled Brexit Talks Capped as Deal Hopes Linger
(Bloomberg) -- The pound capped losses following a weekend of fruitless Brexit talks on conviction that the U.K. and the European Union would eventually reach a deal to avoid a chaotic divorce.
Sterling was little changed in mid-morning trading in London as people familiar with the matter said there would be no further attempt to resolve the impasse before an EU summit on Wednesday. Sunday's stalemate increases the pressure on leaders to resolve their differences, with Nomura International Plc seeing faster progress being made once the U.K. budget is out of the way in two weeks' time.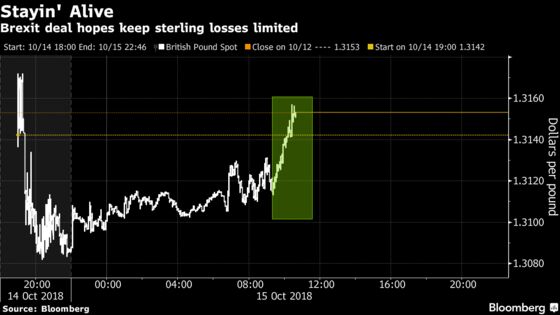 "Not all is lost, most likely just delayed and will be tied together after the budget this month in the days leading up to the November summit," said Jordan Rochester, a currency strategist at Nomura. To validate more weakness in sterling would require "further 'no deal is better than a bad deal' posturing, or another twist in the domestic political story, both hard to predict, but the bad news is in the price I would argue."
The pound slipped to a one-week low of $1.3082 before erasing the decline and trading at $1.3158 as of 11:46 a.m. London time. It depreciated 0.3 percent to 88.15 pence per euro. British Prime Minister Theresa May will update lawmakers in Parliament later on Monday, according to a U.K. spokesman.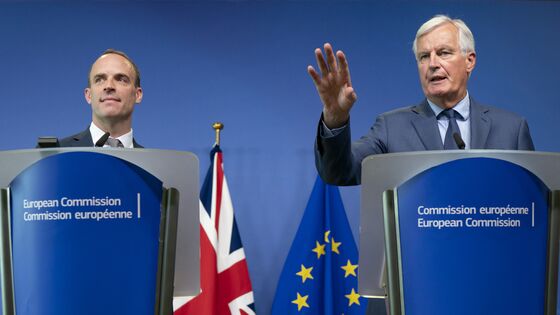 The risks to any bullish sterling views include leaders not agreeing on the Brexit divorce terms, as well as U.K. lawmakers not ratifying such a settlement in Parliament. The need to limit the time Britain stays in the EU tariff regime to resolve the so-called Irish border conundrum is one of May's biggest headaches, with pro-Brexit ministers threatening to quit if she keeps the country locked in indefinitely. She also faces opposition from the Northern Irish party her government relies on for votes in Parliament.
Both the U.K. and the EU have stepped up contingency planning in case negotiations fail. Britain's Chancellor of the Exchequer Philip Hammond said last week he was readying the government's reserves in case Brexit hits the economy and he needs to intervene. Still, analysts at Danske Bank A/S remain optimistic.
"It is not unusual negotiations break down so it does not change our long held view that we will have a 'decent Brexit,'" said Mikael Olai Milhoj, an analyst at Danske. "We have said for a long time we need to get much closer to the deadline for the negotiations to move forward."