Pound Extends Gains, Gilts Slide as Raab Fuels Brexit Deal Hope
(Bloomberg) -- The pound surged and gilts declined after a letter by U.K. Brexit Secretary Dominic Raab spurred optimism that a divorce deal with the EU is in sight.
Sterling strengthened against all of its major peers after Parliament released the Oct. 24 correspondence, in which Raab says he is happy to update lawmakers on the negotiations when a deal is finalized, and he currently expects Nov. 21 "to be suitable." The pound trimmed its advance after a U.K. government spokesman said he would not get involved in "interpretation" of the letter.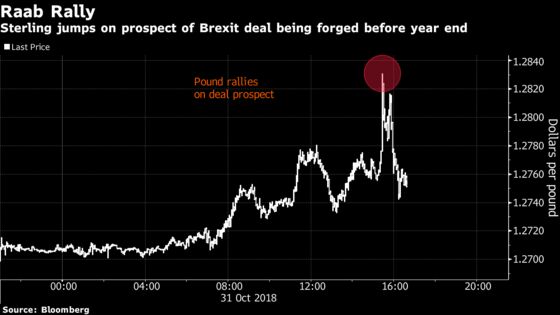 "The good news is Raab is happy to pencil in a date he believes he'll have a deal done by," Nomura International Plc strategist Jordan Rochester said. "The bad news is that politics is flexible and this is no solid confirmation of that. But the market had grown very pessimistic on a deal being done this month and the noises today will serve them a reminder that a deal can be close at hand."
The pound gained almost 1 percent to touch $1.2831 before paring its advance to trade at $1.2753 as of 4:45 p.m. London time, up 0.4 percent on the day. The currency strengthened versus the euro for the first time in six days. Gilts slipped after the release of the letter, with the yield on 10-year bonds advancing four basis points to 1.44 percent.
Rochester said the chance of a deal by the end of this year was the reason why the bank recommended Wednesday that investors position for sterling to gain versus the euro. However, some strategists remain skeptical.
"The letter is a week old and likely merely replays the mantra of a deal being already nearly done," said Jeremy Stretch, head of Group-of-10 currency strategy at Canadian Imperial Bank of Commerce. "Mentioning a date is interesting, the week of Nov. 19 was the one highlighted as being potentially in the frame for any EU emergency summit. Is the letter a game changer, most probably not."
Stretch said the pound's gains in response to the letter was a good rally to sell into.