Pound Could Weather Another U.K. Snap Election, Says BMO's Gallo
(Bloomberg) -- BMO Capital Markets is unfazed by the risk of a U.K. election.
The North American bank is bullish on sterling, seeing it gaining 7 percent to $1.44 by year-end, even after reports that Prime Minister Theresa May's party is preparing for a second national vote in just over a year. The potential for more political drama at the same time as Brexit negotiations saw the pound slide to its lowest level this year on Monday.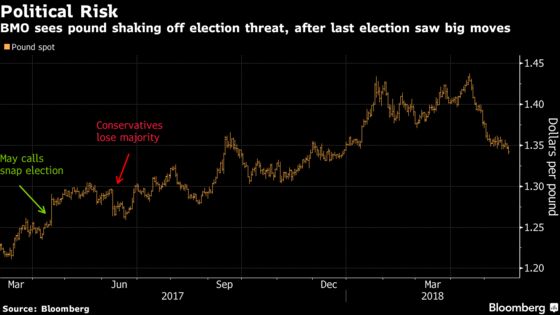 "It would leave the pound open to range trading and flatness but I don't think it's a big negative factor," said BMO's head of European currency strategy Stephen Gallo. "If we did go to elections the Conservatives would do quite well so I'm not as worried as some of my peers are."
Not all pound bulls are so optimistic. ING Groep NV currency strategist Viraj Patel said a snap election would be "unambiguously pound negative", while Jordan Rochester at Nomura International Plc pointed to the Conservatives only having a small poll lead compared to before the 2017 vote.
The Tories have likely learned from some of their mistakes in last year's election, which saw May lose her majority in parliament, while a lot of people would vote for the status quo to get Brexit over with, Gallo said. Adding to the positive sterling thesis, he expects U.K. economic data to recover and the Bank of England to hike interest rates in August this year.