Pound Climbs Versus G-10 Peers on 'Glass Half-Full' Brexit View
(Bloomberg) -- Want the lowdown on European markets? In your inbox before the open, every day. Sign up here.
Optimism that the U.K. will avoid crashing out of the European Union is propping up the pound.
Sterling strengthened the most among major currencies Wednesday ahead of a vote where analysts expect Parliament to reject leaving the EU without a deal. The currency gained more than 1 percent against the dollar, while stocks rose and U.K. government bonds declined as demand for safer assets waned.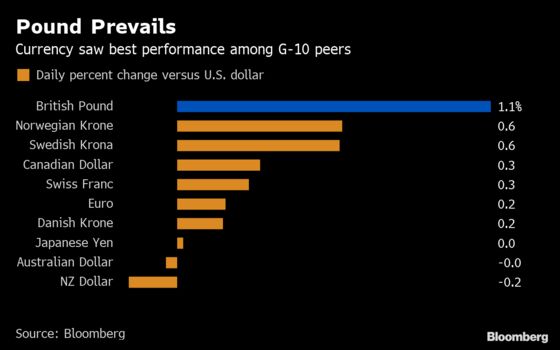 The pound gained 1.1 percent to $1.3212 by 3:50 p.m. in London, taking its advance this year to 3.6 percent, also the most among major currencies. Sterling strengthened 1.0 percent to 85.48 against the euro, approaching the 84.76 level touched Tuesday that was the strongest since May 2017.
"The fact that it's the best-performing currency year-to-date just gives validity to the view that sterling investors look at Brexit with a glass half full," said Jane Foley, head of currency strategy at Rabobank. "As long as there are options on the table that suggest a hard Brexit will be avoided, sterling investors are encouraged."
Options markets are still pricing the risk of turmoil, with one-week implied volatility in sterling against the dollar surging this week to levels last seen in the immediate aftermath of the 2016 Brexit referendum.
With lawmakers seen rejecting leaving the EU without an accord on March 29, the focus will then turn to delaying Brexit. A delay requires the consent of all 27 EU leaders and the length of any extension is still in question. Strategists say that a longer postponement would be better for the pound and the economy.
A longer delay could also put the prospect of interest-rate hikes from the Bank of England back on the table. The central bank has been hamstrung by the uncertainty around Brexit, and is currently seen on hold until at least 2020, according to money-market pricing.
"The interesting question is how long the extension is and what, if any, conditionality the EU attaches since it requires unanimous approval in Brussels," said Stephanie Kelly, a senior political economist at Standard Life Investments. "This will condition the market response."
Yields on 10-year gilts climbed four basis points to 1.20 percent, the first increase in three days. Britain's domestically-focused FTSE 250 stocks index gained 0.2 percent, taking gains this week to 0.7 percent.