Pot Stocks' Monday Rally Keeps Rolling in After-Hours Trading
(Bloomberg) -- The surge in cannabis-related stocks on Monday continued in after-hours trading with India Globalization Capital Inc. leading the way.
India Globalization, which makes marijuana-based pharmaceuticals, jumped as much as 41 percent in extended trading with no apparent news driving the gains. The stock closed up 40 percent on Monday. New Age Beverage Corp. rose 14 percent after logging a 67 percent gain in the regular session.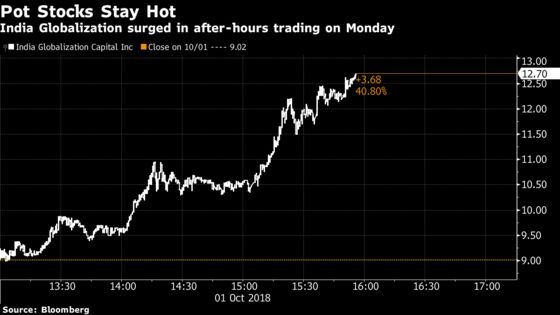 DavidsTea was another big after-hours gainer despite closing with a 5.6 percent loss on Monday. The stock surged 36 percent in extended trading. Tilray, the most valuable marijuana company in the burgeoning industry, rose 4.4 percent.