Pot Stock Testing Out Energy Drinks Surges 200% After NYSE Relisting
(Bloomberg) -- India Globalization Capital Inc. shares more than tripled in value Friday after it successfully challenged a New York Stock Exchange decision to delist the cannabis pharmaceuticals business over its foray into energy drinks.
The stock had fallen to as low as 25 cents after getting relegated to trade over the counter in October under ticker IGCC. The exchange said the company "substantially discontinued the business that it conducted at the time it was listed or admitted to trading, and has become engaged in ventures or promotions which have not developed to a commercial stage or the success of which is problematical."
India Globalization argued it should not be penalized for moving to commercialize products in the U.S. cannabis industry. Shares rose as high as $1.28 in over the counter trading on Friday.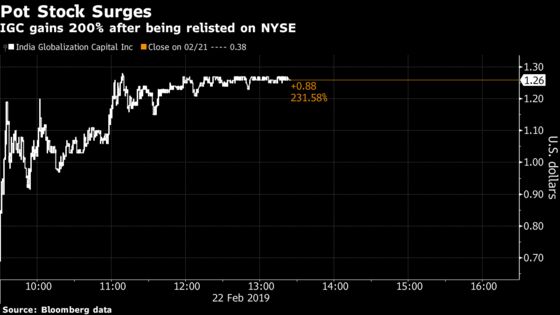 An NYSE panel unanimously ruled to set aside the prior decision
The company's stock is expected to be relisted for trading under ticker IGC no later than Feb. 26