A Pot Stock Analyst Downgraded Tilray. Days Later He Left His Job
(Bloomberg) -- Charles Finnie left his job at Roth Capital Partners LLC just days after the analyst downgraded high-flying pot stock Tilray Inc.
Tilray soared 45 percent in the five days after Finnie removed his buy rating on Aug. 30, and has almost doubled since then.
Cannabis stocks look "increasingly speculative at current levels," he wrote, noting that Tilray's limited float added an element of volatility. The stock closed that day at $59.07. The shares climbed as high as $300 this week before paring gains, and on Thursday it fell 19 percent to $173.58 at 3:15 p.m. in New York.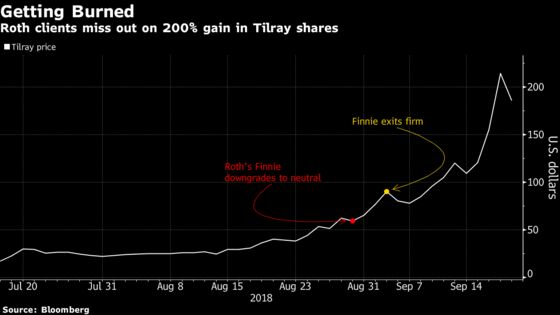 Finnie left "on his own accord," Jeff Martin, Roth Capital's director of research, said in an email. Sarra Schuster, the firm's administrator of research, confirmed that Finnie left the company on Sept. 5 and said plans to replace him "haven't been finalized."
Finnie didn't immediately reply to request for comment through LinkedIn.